SCIOTO TRAIL STATE FOREST
SCIOTO TRAIL STATE FOREST
2731 Stoney Creek Rd
Chillicothe, Ohio   45601-8456
(lat:39.2248 lon:-82.9461)

Phone:
(740) 663-2538
During World War I, the area that is now Scioto Trail State Forest was used as an artillery range for Camp Sherman. Seventy-five millimeter guns and six-inch howitzers were set up at the mouth of Stoney Creek on the Scioto River and fired at targets in the general area of Stewart and Caldwell Lakes. The purchase of land for the state forest began in 1922, and most of the present forest area was purchased by 1937. The first 9,088 acres cost an average of $7.70 per acre. The forest was named after the Native American trail that ran from what is now Chillicothe to Portsmouth. They called it the Scioto Trail. Routh 23 follows the path of the trail. The major development of the area took place in the 1930s when the Civilian Conservation Corps built most of the roads, lakes and early recreational facilities. The forest now covers 9,390 acres. Scioto Trail State Forest maintains 26 miles of bridle trails for day use by horseback riders and hikers. Mountain bikes are also permitted on these trails. A Mountain Bike Family Campout is held each summer to promote this activity. Six miles of paved roads and 18 miles of gravel roads provide good access to all areas of the forest. Scenic vistas and overlooks on several of the roads attract many visitors year-round, but especially during the fall when the leaves are turning color. Populations of deer, wild turkey, squirrel and grouse encourage many hunters to pursue their favorite sport at Scioto Trail. Mushroom hunting in the spring is attracting more and more visitors to the forest each year. A fire tower and picnic area are located next to the forest office, and are the sites of many reunions and family outings. The 250 acre Scioto Trail State Park consists of two areas in the middle of the state forest. Two 15 acre lakes, a campground, two primitive camping area, picnic areas, trails and a sled hill are all located within the park.
Mountain Bike Trails, miles
26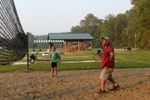 Cottages and Cabins
Rustic beauty in a peaceful, clean atmosphere is the secret to this Family Retreat. The serene splendor of Mother Nature is your reward for visiting Walnut Creek. We offer cabin rentals for those who want the convenience with less effort.
6.2 miles from park*