GREAT SEAL STATE PARK
GREAT SEAL STATE PARK
4908 Marietta Rd
Chillicothe, Ohio   45601
(lat:39.3992 lon:-82.9494)

Phone:
(740) 887-4818
Reservations:
866-644-6727
Great Seal State Park is dedicated to the wilderness spirit of Ohio. The history of the Shawnee nation and Ohio's early statehood is centered in these rugged hills. Challenging trails take visitors to scenic vistas of distant ridgetops and the Scioto Valley below. These very hills are depicted on the Great Seal of the State of Ohio, from which the park gets its name.
Ancient history is recorded in the sandstone hills that comprise Great Seal State Park. It lies upon the Appalachian escarpment, a line of hills stretching across Ohio's mid section which outline the edge of the Appalachian plateau in the state. North and west of the line are glaciated plains while south and east rugged hills extend to the foothills of the mountains. This definition is obvious from the trails in the park where one can see Columbus on a clear day to the north and unbroken forested ridges to the south.

These sharply etched ridges harbor a fine stand of hardwoods. Due to the underlying rock strata, one unexpectedly finds chestnut oaks on the slopes and sugar maples on the crests of the hills where the opposite are more common. Spring wildflowers are abundant in the moist coves, while papaws and persimmons entice wildlife in autumn.
Great Seal State Park is located just north of the town of Chillicothe where the history of Ohio and the culture of the Indian shroud the land. In the mid to late 1700s, the Scioto River Valley was the home of the Shawnee. Three Shawnee towns, all named Chillicothe, were located just below the hills that comprise Great Seal State Park. North of here was the intersection of five major Indian trails. The Scioto River was utilized by the Shawnee as their primary means of transportation from one village to another. The great Shawnee warrior Tecumseh was born north of here near what is now Circleville. Not far from the park is where Logan, chief of the Mingoes, gave his most eloquent speech ending his vengeance against the white settlers for murdering all his relatives.

The first settlers came to the area in the 1790s. In 1796, General Nathaniel Massie, a well-known surveyor and woodsman, organized the settlement of the Scioto Valley by laying out on his own land the beautiful town of Chillicothe. Chillicothe was the first capital of the new state of Ohio from 1803 to 1810. (The capital was moved to Zanesville from 1811 to 1812 and then back to Chillicothe until it was permanently moved to Columbus in 1816.)

The park takes its name from the state emblem, "The Great Seal of the State of Ohio." The famous seal depicts a sheaf of wheat representing Ohio's agricultural strength and a bundle of seventeen arrows shows Ohio to be the 17th state to enter the Union. The mountains and rising sun signify that Ohio was one of the first states west of the Alleghenies. The Scioto River flows between Mount Logan and the cultivated fields in the foreground. The design is said to have been the cooperative inspiration of Thomas Worthington, "Father of Ohio Statehood;" Edward Tiffin, the first governor; and William Creighton, first secretary of state. After an all-night meeting at "Adena," the magnificent estate of Worthington, they viewed the sun rising over Mt. Logan and the hills of what is now Great Seal State Park thus inspiring the scene of the Great Seal of the State of Ohio.
Ohio does not have an annual pass and does not charge entrance fees to state parks.
Nearby Wildlife Area, acres
900
Mountain Bike Trails, miles
17
Winter
Cross-Country Skiing
yes
A 15-site campground offers pressurized water, vault latrines and a shelterhouse. The campground is scenically located adjacent to Sugarloaf Mountain, offering a view of the Scioto Valley below. Campers with pets are permitted.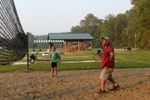 Cottages and Cabins
Rustic beauty in a peaceful, clean atmosphere is the secret to this Family Retreat. The serene splendor of Mother Nature is your reward for visiting Walnut Creek. We offer cabin rentals for those who want the convenience with less effort.
5.9 miles from park*
---
Great Seal State Park is located near Chillicothe, Circleville and Chillicothe
---
A scenic picnic area offers water, latrines, playground equipment and shelterhouse. The shelterhouse is available on a first-come, first-served basis.
Twenty miles of trails are available to both hikers and horsemen. The terrain varies from steep to gently rolling. It is advised that horses and hikers be well conditioned for these trails. The Sugarloaf Mountain Trail (yellow), 2.1 miles, climbs through dense maple-dominated forests to the crest of Sugarloaf. This loop is short and rises almost 500 feet in less than a quarter mile.

Shawnee Ridge Trail (blue), 7.8 miles, comprises Bald Hill, Sand Hills and parts of Rocky Knob. Several steep sections are part of this forested trail.

Mt. Ives Trail (orange), 6.4 miles, winds along Mt. Ives and provides several scenic vistas. The trail is strenuous.

Three hiking trails (Grouse Rock, Spring Run and Picnic Loop) are available. The Spring Run Trail may be used for cross-country skiing when weather conditions permit.
Nearby are Scioto Trail State Park which is located south of Chillicothe off State Route 23, Lake White State Park which is located near Waverly on State Route 220, and Tar Hollow State Park and State Forest which are located off State Route 327 near the Ross-Hocking-Vinton county lines. ODNR Division of Wildlife manages Ross Lake Wildlife Area off Lick Run Road. The area provides many recreational opportunities including hunting, fishing, boating, hiking, nature study and bird watching.

The famous outdoor historical drama, Tecumseh, is presented late June through early September at Sugarloaf Mountain Amphitheater bordering the park.

The Ross County Historical Society at 45 W. Fifth Street in Chillicothe features exhibits of pioneer crafts, firearms, furniture, toys and clothing. An admission fee is charged. The museum is open March through November.

One mile north of Chillicothe on State Route 104 is the Hopewell Culture National Historical Park. The area is a prehistoric Indian complex of 23 burial mounds. A museum, visitor's center and exposed burial mound are open daily.
---
---
Bait & Tackle
381 N High St
Chillicothe, OH
(740) 774-1985
D & K Bait & Tackle Dealers
288 W Hydell Rd
Chillicothe, OH
(740) 772-1836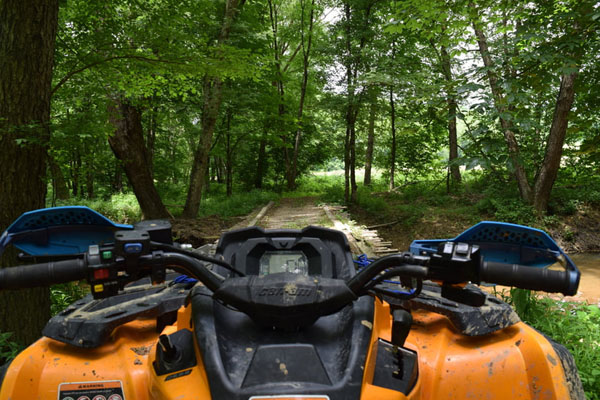 Cottages and Cabins
5 Bedroom, Newly Furnished, Hot Tub. Located on 330 private acres. Wayne National and Zaleski State Forest Both within one mile of property. Over 20 miles of established horse, atv, hiking trails on property.
29.6 miles from park*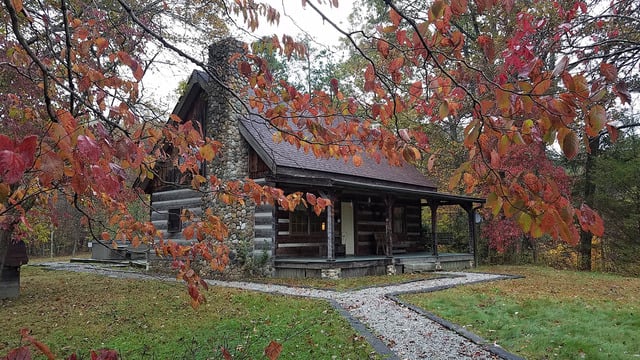 Cottages and Cabins
Hidden Cave Cabin is an authentic log cabin with 2 bedrooms in a private wooded setting. It is located on one of the most scenic drives in Hocking Hills and just 3.6 miles to Rock House and less than 10 miles to Conkle's Hollow and Old Man's Cave.
20.9 miles from park*
Cottages and Cabins
Cozy two bedroom cabin with large front porch on five acres overlooking a 3/4 acre fully stocked pond. Located in southern Hocking County just minutes from Hocking Hills caves, Nelsonville, Logan and Laurelville.
31.1 miles from park*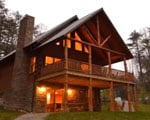 Cottages and Cabins
Trickle Creek offers luxury cabins in Hocking Hills. The cabins are situated on nearly 236 acres of secluded cabin rentals in the deep wooded ravines in the foothills of the Appalachian Mountains in Hocking County, Ohio.
26 miles from park*
From Cleveland, Ohio: Take I-71 South to I-270 West to U.S. 23 South (Circleville Exit)Travel South on 23, through Circleville 17 miles to Delano Exit. Follow signs to Park Entrance.

From Columbus, Ohio: Take U.S. 23 South through Circleville 17 miles to Delano ExitFollow signs to the park, which is located three miles East off of U.S. 23.

From Cincinnati, Ohio: U.S. 50 East to Chillicothe. Take U.S. 23 North to State Route 159Turn right on Delano Road, follow signs to the Park, which is located 2 miles North of Chillicothe.

From Toledo, Ohio:Take U.S. 23 to Columbus to I-270. Take I-270 West to U.S. 23 exit. Go South through Circleville 17 miles to Delano RoadExit. Follow the signs to the Park.

From Chillicothe, Ohio:Take State Route 159 North to Delano Road, turn right and go to the Marietta Road intersection; turn right to the Park Entrance.