BOILER BAY STATE PARK
BOILER BAY STATE PARK
119 U.S. 101
Depoe Bay, Oregon   97341
(lat:44.8101 lon:-124.0624)

Phone:
541-765-3304
A miraculous and rugged, basalt-rimmed bay, Boiler Bay is a great place to watch wild surf action on the rocky spurs. This splendid panoramic viewpoint presents a good opportunity to see migrating and resident gray whales. Take your binoculars -- this is one of the best sites in Oregon to see ocean-going birds (like shearwaters, jaegers, albatrosses, grebes, pelicans, loons, oystercatchers and murrelets). In 1910, an explosion sank the J. Marhoffer, and you can see the ship's boiler at low-tide. A short, rough trail takes you to some of Oregon's richest tide pools.
Vacation Rentals
Keystone Vacation Rentals - Offering guests luxury oceanfront vacation rentals to enjoy the perfect getaway along the magnificent Oregon Coast. Rentals offer all the amenities you would hope to find including commanding oceanfront views, private hot tubs, access to indoor pools, WiFi, HD televisions and much more.
11.8 miles from park*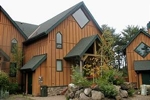 Cottages and Cabins
Oregon Beach Vacations chooses our Oregon vacation rentals very carefully. Each home is personally screened prior to acceptance, and we work closely with the property owners to ensure that every Oregon coast rental continues to meet our high standards. Each rental has certain amenities to make it special. You may never want to leave.
13.6 miles from park*