BEVERLY BEACH STATE PARK
BEVERLY BEACH STATE PARK
198 Northeast 123rd Street
Newport, Oregon   97365
(lat:44.729 lon:-124.0556)

Phone:
800-551-6949
Toll Free:
800-551-6949
Reservations:
541-265-9278
Beverly Beach is popular for a reason! Like magic, a well-known walkway goes under the highway and emerges to the long expanse of sandy beach extending from Yaquina Head (you can see the lighthouse from here) to the headlands of Otter Rock. When the weather cooperates, kites color the air and whip in the wind. Bring a bucket and build a sand castle! Surfers often head to the north beach, while folks looking for fossils head south.

A few steps from the ocean you'll find the forest-sheltered campground. Giant, wind-sculpted trees and nurse logs surround the campsites strung along pebbly Spencer Creek. There is a Visitors Information Center located near the registration booth where you can also purchase books,souvenirs or educational toys.The childrens playground is located next to the program area. The picnic area is a grassy, tree-lined spot protected from summer winds by a charming yurt group meeting hall. It's hard to believe all this is a few minutes drive from the Oregon Coast Aquarium, Yaquina Head and other prime attractions.
Beverly Beach State Park is located on the central coast of Oregon, nestled between Yaquina Head and Otter Rock. The park's history dates back to ancient times when Native American tribes inhabited the area for thousands of years before European settlers arrived.

In the 1800s, pioneers began settling in this region as they sought new opportunities along the Pacific coastline. These early settlers established small communities near Beverly Beach, taking advantage of its abundant natural resources such as timber and fish.

During World War II, a portion of Beverly Beach was used by U.S. military forces for training exercises due to its strategic location overlooking the ocean. Afterward, it returned to civilian use but remained relatively undeveloped until later years.

The state recognized both historical significance and recreational potential within this coastal stretch leading them to acquire land at Beverly Beach during various periods throughout mid-20th century onwards through purchases from private owners or donations made by individuals who valued preserving nature's beauty hereabouts while providing public access thereto without commercial exploitation thereof which would detract therefrom rather than enhance enjoyment thereof; thus ensuring that future generations could enjoy these pristine shores too!

Today, visitors flock to Beverly Beach State Park year-round attracted by its stunning sandy shoreline stretching over two miles long with picturesque views extending out into vast blue waters where whales can sometimes be spotted migrating offshore!
1. Tent Camping: Beverly Beach State Park offers over 120 tent camping sites, each equipped with a picnic table and fire ring.

2. RV Camping: The park has more than 75 full-hookup sites for recreational vehicles up to 54 feet in length. These include water, sewer and electrical connections as well as cable TV hookups.

3. Yurt Rentals: For those who prefer glamping (glamorous camping), the park also provides yurts which are round canvas-and-wood structures that can accommodate five people comfortably; they come furnished with bunk beds, futons or sofas, tables & chairs along with heating facilities.

4.Yourte Deluxe : In addition to standard yurts there is one deluxe version available at this state park offering additional amenities like kitchen appliances , bathroom etc

5.Group Camps - There's an option of group campsites too where larger groups can camp together under reservation basis .

6.Hiker/Biker Campsites - Special areas have been designated within the campground specifically for hikers/bicyclists looking for a place to rest overnight during their journey.

Remember all these options require advance booking especially during peak season . Also note some restrictions may apply due Covid19 pandemic situation so it's always better check latest updates from official website before planning your trip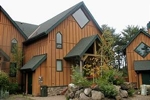 Cottages and Cabins
Oregon Beach Vacations chooses our Oregon vacation rentals very carefully. Each home is personally screened prior to acceptance, and we work closely with the property owners to ensure that every Oregon coast rental continues to meet our high standards. Each rental has certain amenities to make it special. You may never want to leave.
17.7 miles from park*