BEVERLY BEACH STATE PARK
Beverly Beach is popular for a reason! Like magic, a well-known walkway goes under the highway and emerges to the long expanse of sandy beach extending from Yaquina Head (you can see the lighthouse from here) to the headlands of Otter Rock. When the weather cooperates, kites color the air and whip in the wind. Bring a bucket and build a sand castle! Surfers often head to the north beach, while folks looking for fossils head south.

A few steps from the ocean you'll find the forest-sheltered campground. Giant, wind-sculpted trees and nurse logs surround the campsites strung along pebbly Spencer Creek. There is a Visitors Information Center located near the registration booth where you can also purchase books,souvenirs or educational toys.The childrens playground is located next to the program area. The picnic area is a grassy, tree-lined spot protected from summer winds by a charming yurt group meeting hall. It's hard to believe all this is a few minutes drive from the Oregon Coast Aquarium, Yaquina Head and other prime attractions.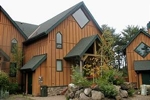 Cottages and Cabins
Oregon Beach Vacations chooses our Oregon vacation rentals very carefully. Each home is personally screened prior to acceptance, and we work closely with the property owners to ensure that every Oregon coast rental continues to meet our high standards. Each rental has certain amenities to make it special. You may never want to leave.
17.7 miles from park*