OPRD WHALE WATCHING CENTER
OPRD WHALE WATCHING CENTER
119 U.S. 101
Depoe Bay, Oregon   97341
(lat:44.81 lon:-124.0624)

Phone:
800-551-6949
Perched on a seawall with expansive ocean views and a large viewing deck, the Whale Watching Center in Depoe Bay is the perfect spot to see whales. Park staff and volunteers are ready to answer your questions and help you spot whales and other marine life. The center is equipped with binoculars for visitors, and displays feature facts about whales and information on what swimming patterns you might see.

During the busiest weeks, thousands of gray whales migrate past on their way to and from the waters of Alaska and Mexico. We keep watch all year long you never know what might swim by. We also see humpback whales, orcas, dolphins, porpoise and even blue whales.
In the winter we watch nearly 20,000 gray whales from mid-December through mid-January as they travel south to the warm lagoons of Baja Mexico.

Spring watching begins in late March as the gray whales travel north on their way towards Alaska, calves in tow. The first surge swims by around the end of March, and we watch the north-bound whales all the way until June.

Summer and fall brings resident whales close to shore to feed from June to mid-November. Depoe Bay is a hot spot for whales looking for food this time of year. We consistently see between 5 and 15 whales every day
Vacation Rentals
Keystone Vacation Rentals - Offering guests luxury oceanfront vacation rentals to enjoy the perfect getaway along the magnificent Oregon Coast. Rentals offer all the amenities you would hope to find including commanding oceanfront views, private hot tubs, access to indoor pools, WiFi, HD televisions and much more.
11.8 miles from park*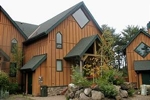 Cottages and Cabins
Oregon Beach Vacations chooses our Oregon vacation rentals very carefully. Each home is personally screened prior to acceptance, and we work closely with the property owners to ensure that every Oregon coast rental continues to meet our high standards. Each rental has certain amenities to make it special. You may never want to leave.
13.6 miles from park*