ROCKY CREEK STATE PARK
Rocky Creek State Park, located in Oregon, is a scenic coastal area that offers breathtaking views of the Pacific Ocean. The park features rugged cliffs and rocky landscapes where visitors can watch for gray whales migrating along the coastline or explore tide pools teeming with marine life during low tides. It also provides picnic areas nestled among Sitka spruce trees providing an ideal spot to relax while enjoying panoramic ocean vistas. Known for its natural beauty and tranquility, Rocky Creek State Park serves as a perfect getaway from city hustle-bustle offering opportunities for wildlife viewing, photography or simply soaking up nature's splendor.

Located on the central coast of Oregon, this scenic area was initially inhabited by Native American tribes such as Tillamook and Siletz. The land became a part of U.S territory in 1846 after the signing of the Oregon Treaty between Great Britain and America.

In early years, it served primarily for fishing purposes due to its proximity to Pacific Ocean waters rich with marine life. It wasn't until 1922 that steps were taken towards preserving this natural beauty when Samuel H Boardman started advocating for state parks across Oregon.

The park's establishment came about during an era known as "the golden age" (1933-1942) under President Franklin D Roosevelt's New Deal program which aimed at providing jobs while conserving nature through Civilian Conservation Corps (CCC). During these times, CCC workers built trails along cliffs overlooking ocean views making them accessible for public enjoyment.

Over time additional amenities like picnic areas were added enhancing visitor experience further. Today it is recognized not only for breathtaking coastal vistas but also serves as a sanctuary protecting diverse wildlife species including seals & sea lions often spotted from viewpoints above rocky shores.

Despite facing threats from erosion caused by harsh weather conditions over decades; conservation efforts have ensured preservation maintaining its charm attracting tourists year-round who come seeking tranquility amidst raw untouched wilderness or simply enjoy whale watching - one among many activities offered here today.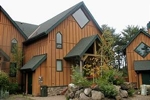 Cottages and Cabins
Oregon Beach Vacations chooses our Oregon vacation rentals very carefully. Each home is personally screened prior to acceptance, and we work closely with the property owners to ensure that every Oregon coast rental continues to meet our high standards. Each rental has certain amenities to make it special. You may never want to leave.
15.3 miles from park*
Vacation Rentals
Keystone Vacation Rentals - Offering guests luxury oceanfront vacation rentals to enjoy the perfect getaway along the magnificent Oregon Coast. Rentals offer all the amenities you would hope to find including commanding oceanfront views, private hot tubs, access to indoor pools, WiFi, HD televisions and much more.
13.8 miles from park*