DEVILS LAKE STATE PARK
At Devil?s Lake State Park, 500-foot quartzite bluffs tower above a 360-acre lake. Spectacular scenery, a full range of recreational activities, and a full-time naturalist make this a very popular park.

The 9,117-acre state park is 2 miles south of Baraboo and about 30 miles north of Madison.

More people visit Devil?s Lake State Park annually?1.2 to 1.4 million?than any other state park in Wisconsin. Peak visitation is during the late spring, summer and fall, when visitors can swim in or boat on the clear, 360-acre spring fed lake.

The park is a unit of the Ice Age National Scientific Reserve. Federal Golden Eagle, Golden Age and Golden Access Passports (exit DNR) as well as Wisconsin state park admission stickers are honored. Holders of National Parks passports receive a waiver of the vehicle admission fees, but camping fees are not affected. Devil's Lake also has a segment of the Ice Age National Scenic Trail (exit DNR).

State parks nearby are Mirror Lake (12 miles northwest), Rocky Arbor (19 miles northwest), and Natural Bridge (20 miles west). Also nearby is the Circus World Museum (exit DNR) in Baraboo, a state historic site.
Nearly 100 species of birds, close to half the total in Wisconsin, nest in the park and 880 plant species grow in the park.

Wisconsin's oldest state natural area, Parfrey's Glen, is in the southeast corner of Devil's Lake State Park. It is a special and fragile place with unique plants, animals, and geology. The area is open only from 6 a.m. to 8 p.m. Visitors must stay on the designated trail. Pets, food, beverages, fires, and camping are prohibited. Motor vehicles are not allowed beyond the parking lot off Highway DL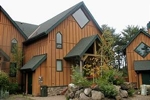 Cottages and Cabins
Oregon Beach Vacations chooses our Oregon vacation rentals very carefully. Each home is personally screened prior to acceptance, and we work closely with the property owners to ensure that every Oregon coast rental continues to meet our high standards. Each rental has certain amenities to make it special. You may never want to leave.
7.5 miles from park*
Vacation Rentals
Keystone Vacation Rentals - Offering guests luxury oceanfront vacation rentals to enjoy the perfect getaway along the magnificent Oregon Coast. Rentals offer all the amenities you would hope to find including commanding oceanfront views, private hot tubs, access to indoor pools, WiFi, HD televisions and much more.
0.5 miles from park*