RACHEL CARSON NATIONAL WILDLIFE REFUGE
RACHEL CARSON NATIONAL WILDLIFE REFUGE
321 Port Rd
Wells, Maine   04090
(lat:43.3471 lon:-70.5478)

Phone:
(207) 646-9226
Email:

Rachel Carson National Wildlife Refuge was established in 1966 in cooperation with the State of Maine to protect valuable salt marshes and estuaries for migratory birds. Scattered along 50 miles of coastline in York and Cumberland counties, the refuge consists of ten divisions between Kittery and Cape Elizabeth. It will contain approximately 7,600 acres when land acquisition is complete.

Our namesake, Rachel Carson, was a world-renowned marine biologist, author and environmentalist. She served as an aquatic biologist and Editor-in-Chief for the U.S. Fish and Wildlife Service. During her tenure, she composed a series of articles on Atlantic Coast wildlife refuges.

Ms. Carson was born in Pennsylvania in 1907. Though the mystery of the sea and its creatures captivated her at an early age, the Maine coast particularly inspired her. Beginning in 1952, she summered on Southport Island, where she studied its beach and tide pools to research The Edge of the Sea (1955).

Through tireless investigation for her greatest work, Silent Spring (1962), she linked the unrestrained use of post-World War II chemical pesticides with fearsome, biological consequences. Overcoming industry and government pressure to abandon her research, she persevered. Carson simply and convincingly explained the connections between humans and all creatures of the Earth. She alerted generations to use chemicals with utmost caution, warning that their improper use has dreadful effects on public health and the environment.

Rachel Carson died in 1964, a victim of cancer. As fitting recognition of her tireless work, this refuge, first known as the Coastal Maine National Wildlife Refuge, was renamed in her honor on October 28, 1969 and formally dedicated June 27, 1970.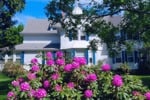 BBs / Inns
An elegant yet casual Romantic, Historic, Victorian Bed and Breakfast. The Inn is perfect for Small Weddings, Honeymoons, Vow Renewals, Engagement Surprises, Anniversaries, Elopements, Family Reunions, Vacations, Ladies Weekends, Family Holiday Gatherings, and Weekend Getaways at the Beach.
14.6 miles from park*