SCARBOROUGH BEACH STATE PARK
SCARBOROUGH BEACH STATE PARK
418 Black Point Rd
Scarborough, Maine   04074
(lat:43.5462 lon:-70.313)

Phone:
(207) 883-2416
Scarborough beach offers some of the best swimming in New England with water temps in the high 60's through out July and August. Rip Currents do occur on a daily basis and we firmly recommend swimming in the designated lifeguard area. Parking is limited to 285 on site spaces and 125 off site spaces.

Weekends they will fill on sites spaces by 11:30am and off site spaces by 12:30pm. Plan to get there early on the weekends.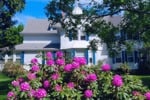 BBs / Inns
An elegant yet casual Romantic, Historic, Victorian Bed and Breakfast. The Inn is perfect for Small Weddings, Honeymoons, Vow Renewals, Engagement Surprises, Anniversaries, Elopements, Family Reunions, Vacations, Ladies Weekends, Family Holiday Gatherings, and Weekend Getaways at the Beach.
4.2 miles from park*