DELAWARE WATER GAP NATIONAL RECREATION AREA
DELAWARE WATER GAP NATIONAL RECREATION AREA
1978 River Rd
Bushkill, Pennsylvania   18324
(lat:41.1044 lon:-74.9443)

Phone:
(570) 426-2452
Email:

This park preserves 40 miles of the middle Delaware River and almost 70,000 acres of land along the river's New Jersey and Pennsylvania shores. At the south end of the park, the river cuts eastward through the Appalachian Mountains at the scenic Delaware Water Gap. A one-day auto tour of the park can include waterfalls, rural scenery, and historic Millbrook Village. Visitors can also canoe, hike, camp, swim, picnic, bicycle, crosscountry ski, and horseback ride. Fishing and hunting are permitted in season with state licenses.

Alosa Campsites

The Alosa Campsites are boat-in only sites located on the west Pennsylvanian shore of the Delaware River near Bushkill, Pennsylvania. The side of the river with the campsites will be on your right while traveling downstream. This section of the river offers unspoiled views, excellent boating, fishing, and birding opportunities within the Delaware Water Gap
....more
---
Delaware Water Gap National Recreation Area is located near Bangor, Budd Lake and East Stroudsburg
---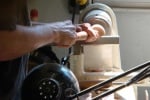 Arts/Cultural/Drama
Peters Valley is a non-profit education center and gallery for craft arts. Tour the studios on weekends during summer. Workshops May to September, 2 to 5 days. Expert instructors from US and abroad. Commute or sleep over for a mini-vacation close-to-home. Wood turning, weaving, jewelry, ceramics, blacksmithing, photography, papermaking, beading and more.
9.8 miles from park*
---
---
Rainbow Mountain Resort and Restaurant
210 Mount Nebo Rd
East Stroudsburg, PA
(570) 223-8484
Echo Valley Cottages
1 Lower Lakeview Dr
East Stroudsburg, PA
(570) 223-0662
Pocono Palace Inc
5241 Milford Rd
East Stroudsburg, PA
(570) 588-6694
Birchwood In the Poconos
3400 Birchwood Rd
East Stroudsburg, PA
(570) 629-0222
Value Inn
5219 Milford Rd
East Stroudsburg, PA
(570) 588-1100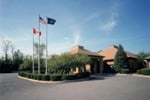 Hotels/Motels
Located near popular recreational attractions, including the Claws 'N' Paws Wild Animal Park, Steamtown National Historic Site and Promised Land State Park. NASCAR fans will enjoy a day at the races at nearby Pocono Raceway.
31.6 miles from park*
Plane - Lehigh Valley International Airport, Allentown PA, 65 miles southwest: 888-FLY-LVIA, 610-266-6000

Wilkes-Barre/Scranton International Airport, Avoca PA, 65 miles west: (570) 457-3445

Newark International Airport, Newark NJ, 70 miles east: (973) 961-6000

Car - New York City NY is 70 miles east; Philadelphia PA is 90 miles south; Scranton PA is 50 miles west.

The north end of the park is at Milford PA, 5 miles from the NY/NJ border at Port Jervis NY. From points northeast, north, and northwest, take Interstate 84 to PA Exit 46. Follow Route 6 east 2 miles to Milford, and take Route 209 south to enter the north end of the park.

The south end of the park is along Interstate 80 at the town of Delaware Water Gap PA. From points southeast, south, and southwest, connect to Interstate 80.

For Kittatinny Point Visitor Center and to enter the New Jersey side of the park: WESTBOUND on Interstate 80 take NJ Exit 1 and bear left 500 yards, or EASTBOUND on Interstate 80 take the first exit ramp after the Delaware River toll plaza and continue straight off the ramp 300 yards.

For Bushkill Visitor Center and to enter the Pennsylvania side of the park, from Interstate 80 take PA exit 309 and Route 209 north 10 miles.

From the west, PA Route 739 south at Interstate 84 PA Exit 34 reaches Dingmans Ferry PA in 14 miles. From the east NJ Route 15 north at Interstate 80 NJ Exit 34, connecting to NJ Routes 206 north and 560 west, reaches the recreation area at Layton NJ in 25 miles.

Bus - Martz and Greyhound bus lines from Port Authority NY to Scranton and Wilkes-Barre PA stop at the "Stroudsburg" terminal in the town of Delaware Water Gap PA. This terminal is one mile from the Appalachian Trail south in the town of Delaware Water Gap and 2 1/2 miles from Kittatinny Point Visitor Center and the Appalachian Trail north via the pedestrian walkway on the Interstate 80 bridge over the Delaware River.

Martz (570)424-3639, 421-3040 Greyhound (800) 231-2222 Limited seasonal bus service is available from the New York City area to Milford and Matamoras PA. Regular daily service is provided to Port Jervis, NY on Shortline Bus.

Shortline Bus Service: (800) 631-8405 Limited daily passenger train service is available from Hoboken NJ to Port Jervis NY. MTA Metro-North Railroad: (800)638-7646

Public Transportation - There is no public transportation through the park. Limited auto rental and taxi service may be available in Stroudsburg PA, Milford PA, Matamoras PA, and Port Jervis NY.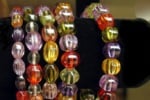 Arts Crafts
The store at Peters Valley Craft Center offers original handcrafted art, jewelry, clothing, ceramics, and home furnishings. Unique items from over 300 artists offer distinctive ideas to embellish the home, treat yourself, or to select for a gift. Visit the Gallery upstairs for our latest exhibit of fine art craft.
9.8 miles from park*