STOKES STATE FOREST
The breathtaking and panoramic view from Sunrise Mountain along the Appalachian Trail rewards the hiker who has trekked up the steep side of the mountain. The view encompasses the pastoral farmland of New Jersey to the east and undeveloped forests and mountain ridges to the west. For those who don?t relish the idea of climbing up the side of a mountain and following a sometimes rocky and steep trail for a few hours, there is a short drive to the pavilion at the top of the mountain.

Stokes is famous for its impressive beauty, whether it is at the top of a mountain ridge or in the cool and fragrant Tillman Ravine with its rushing stream and steep cliffs. Hikers, campers, fishermen and photographers are attracted to its wild setting.
Cabins: Ten furnished cabins each with wood stove; two single beds; one double-deck bunk; kitchen with cold and hot running water, refrigerator, electric stove; half-bath with toilet and sink. Electric lights. Each accommodates four people. With prior permission from the superintendent, two additional people may be accommodated. Cabins are adjacent to Lake Ocquittunk. Open from April 1 through December 15. $45 per night, $315 per week.

Cabins 7 & 15: Accommodate eight people. Facilities are the same as listed above, except they include a shower and hot and cold running water. Cabin 7 has a fireplace and cabin 15 has a wood stove. Accommodate. people with disabilities. Located 1/2 mile from Lake Ocquittunk. Open April 1 through December 15. $85 per night, $595 per week.

Group Cabin 16: Accommodates twelve people. Facilities are the same as Cabin 15 and includes two sleeping areas and two full bathrooms and a Fireplace. Located one mile from Lake Ocquittunk. Open April 15 through November 30. $125 per night.
Campsites: 51 tent and trailer sites with fire rings and picnic tables. Some camping areas available all year. $20 per night.

Group campsites: Nine group sites with fire rings and picnic tables; capacity varies. Open from April 1 through October 31.Group Campsites A,B,C,D,E,F $30 per night, site capacity 30 people.Group Campsite G $65 per night, site Capacity 65 people.Group Campsite H $10 per night, site capacity 10 people.Group Campsite I $45 per night, site capacity 45 people.

Lean-tos: Nine lean-tos with fire rings and picnic tables. Open year round. $30 per night.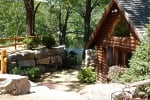 Cottages and Cabins
Cedar Lakes is a gorgeous 500-acre estate surrounding twin cedar lakes. We have a selection of deluxe cottages for nightly or weekly rentals. Enjoy hiking, boating, fishing, tennis, and swimming on the property. Cottages have full kitchens, fireplaces, WIFI, and great amenities--all for the price of a hotel.
15.8 miles from park*
Swimming is permitted in Stony Lake from Memorial Day weekend through Labor Day while lifeguards are on duty. Visitors will find a beach complex containing changing area, restrooms a first-aid station and picnic facilities. Inner tubes, rafts and other flotation devices are not permitted in the swimming area. Only Coast Guard approved life jackets are permitted. Pets are prohibited on the beach.
Small boats with electric motors are only permitted on the waters of Lake Ocquittunk and are subject to all applicable boating laws. There is no boat ramp.
Stocked annually by the Division of Fish & Wildlife, the Big Flatbrook and its tributaries provide some of the best trout fishing in New Jersey. Lake Ocquittunk and Stony Lake also are stocked with trout. The majority of the forest is open to hunting. Both fishing and hunting at Stokes State Forest are subject to the New Jersey Division of Fish and Wildlife regulations.