ALOSA CAMPSITES
ALOSA CAMPSITES
East Stroudsburg, Pennsylvania   18302
(lat:41.0836 lon:-74.9763)

Phone:
570-426-2452
The Alosa Campsites are boat-in only sites located on the west Pennsylvanian shore of the Delaware River near Bushkill, Pennsylvania. The side of the river with the campsites will be on your right while traveling downstream. This section of the river offers unspoiled views, excellent boating, fishing, and birding opportunities within the Delaware Water Gap National Recreation Area and the Middle Delaware National Scenic and Recreational River. These reservation-only campsites are available to boaters who are on a multi-day river trip. The Delaware Water Gap National Recreation Area also offers other boat in only campsites that are free and available on a first-come, first-served basis. For more information on the first-come, first-served campsites and river campsite regulations in general. The Alosa Campsites are composed of six individual reservation-only campsites. Five of the campsites hold a maximum capacity of six people per site R2-R6, and one campsite holds a max capacity of 10 people R1. The site has three boat take-outs. Each take-out serves two campsites the upstream most serving sites R1 R2, middle serving R3 R4, and the furthest downstream serving R5 R6. There is a steep, 10-foot bank between the water's edge and the campsite locations boats will need to be pulled out of the water. There is a large sign at the first boat take-out that states Alosa Campsites. Each take-out has signs indicating their location and each campsite is clearly numbered. Two portable toilet facilities are located onsite and designated trails to the facilities are clearly marked. Each individual campsite is outfitted with a fire ring with grate and has enough space for a several small to mid-size tents. There is no potable water for drinking or cooking available onsite.This section of the Delaware River is known for its American Shad Alosa sapidissima fisheries, which is how the campsite got its name. The campsites are located on a bench above the Delaware River underneath a grove of hardwood trees. The hardwood forest is home to wildlife, including the eastern gray squirrel, white-tailed deer, and the American black bear, if you are lucky you might even see a bald eagle.The campsites are located approximately 2.5 miles downriver of the Bushkill Access and approximately 6 miles upriver from Smithfield Beach. PLEASE NOTE Only campers on legitimate multi-day river trips may stay overnight at the Alosa Campsites.This part of the Delaware River is unspoiled as it travels through the rural landscape of the Delaware Water Gap National Recreation Area and the Middle Delaware National Scenic and Recreational River. A mixture of flat water and a few riffles make this section ideal for beginning paddlers and those seeking a relaxing trip. Fishing is permitted on the Delaware River during the appropriate state-specific seasons. Anglers must possess a valid PA or NJ fishing license. Hunting is not permitted in or near the campsites.
---
Alosa Campsites is located near Bangor, Budd Lake and East Stroudsburg
---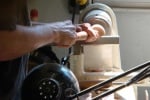 Arts/Cultural/Drama
Peters Valley is a non-profit education center and gallery for craft arts. Tour the studios on weekends during summer. Workshops May to September, 2 to 5 days. Expert instructors from US and abroad. Commute or sleep over for a mini-vacation close-to-home. Wood turning, weaving, jewelry, ceramics, blacksmithing, photography, papermaking, beading and more.
12 miles from park*
---
---
Rainbow Mountain Resort and Restaurant
210 Mount Nebo Rd
East Stroudsburg, PA
(570) 223-8484
Echo Valley Cottages
1 Lower Lakeview Dr
East Stroudsburg, PA
(570) 223-0662
Pocono Palace Inc
5241 Milford Rd
East Stroudsburg, PA
(570) 588-6694
Paramount Motel
Business Route 209 N
East Stroudsburg, PA
(570) 421-2141
Birchwood In the Poconos
3400 Birchwood Rd
East Stroudsburg, PA
(570) 629-0222
Value Inn
5219 Milford Rd
East Stroudsburg, PA
(570) 588-1100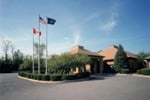 Hotels/Motels
Located near popular recreational attractions, including the Claws 'N' Paws Wild Animal Park, Steamtown National Historic Site and Promised Land State Park. NASCAR fans will enjoy a day at the races at nearby Pocono Raceway.
31.6 miles from park*
Directions From The River - The Alosa Campsites are located on the right hand west shore of the Delaware River approximately 2.5 miles downstream of Bushkill Access, 1.2 Miles downstream of the Rivers Bend Group Campground left/east shore of river, and 2,000 feet downstream of Turtle Island, formerly called Sambo Island. The island is a small 300 x 700 ft., closer to the right/west side of the river. For the safest route, stay to the left/east side of Turtle Sambo Island and in the main channel of the river. Once you reach the downstream side of the island, move to the right/west shoreline of the river and watch for the large Alosa Campsite sign see photos for sign. The sign is approximately 1,000 ft. from the downstream end of Turtle Island, about 8 feet in from the river's edge. The large Alosa Campsite sign is also at the location of the 1st boat take-out, this take-out serves campsites R1 R2. Approximately 175 ft. downstream of the first take-out is the 2nd take-out, which serves campsites R3 R4, than approximately 240 ft. downstream is the 3rd and final take-out which serves campsites R5 R6.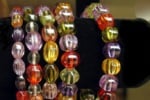 Arts Crafts
The store at Peters Valley Craft Center offers original handcrafted art, jewelry, clothing, ceramics, and home furnishings. Unique items from over 300 artists offer distinctive ideas to embellish the home, treat yourself, or to select for a gift. Visit the Gallery upstairs for our latest exhibit of fine art craft.
12 miles from park*