TWO LIGHTS STATE PARK
Two Lights State Park is a popular point of destination for Maine residents and the many visitors who enjoy the state's legendary rocky coast. Opened in 1961, the park encompasses 41-acres of rocky headlands. Standing high above the rocky coast and rolling surf, visitors have sweeping views of Casco Bay and the open Atlantic.

The park's name originated from the twin lighthouses located nearby at the end of Two Lights Road. Built in 1828, these were the first twin lighthouses on the coast of Maine. Although not open to the public, the eastern light is an active, automated light station, visible 17 miles at sea. The western light ceased operation in 1924 and is now a private home. One of these towers was the subject of Edward Hopper's famous painting "Lighthouse at Two Lights."

Picnic tables situated on the hills facing the ocean afford visitors spectacular views of the ocean while enjoying an afternoon barbecue or clambake. Strollers and hikers can enjoy the refreshing sea breezes along shoreline trails and watch ships sailing into and out of Portland Harbor. Remember, ocean breezes can cool off a summer afternoon, so bring warm clothing to ensure an enjoyable visit. When walking along the rocks by the ocean, stand at least 20 feet back from the surf and keep a close eye on children who are in your care.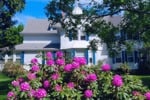 BBs / Inns
An elegant yet casual Romantic, Historic, Victorian Bed and Breakfast. The Inn is perfect for Small Weddings, Honeymoons, Vow Renewals, Engagement Surprises, Anniversaries, Elopements, Family Reunions, Vacations, Ladies Weekends, Family Holiday Gatherings, and Weekend Getaways at the Beach.
9.6 miles from park*