TOBYHANNA STATE PARK
TOBYHANNA STATE PARK
PO Box 387
Tobyhanna, Pennsylvania   18466
Phone:
570-894-8336
Toll Free:
888-727-2757
Reservations:
888-727-2757
Email:

Tobyhanna State Park is in scenic Monroe and Wayne counties in northeastern Pennsylvania. The 5,440-acre park includes the 170-acre Tobyhanna Lake. Tobyhanna is derived from an American Indian word meaning ?a stream whose banks are fringed with alder.? Gouldsboro State Park is nearby.
Camping: rustic sites

A 140-site camping area is open from the first weekend in April to mid-December. Rustic toilets and hand operated water pumps are provided. A playground is provided for the children. Trailers and motor homes may use a convenient, sanitary dump station at the campground entrance.

Due to the high elevation of nearly 2,000 feet above sea level, campers should be prepared for cool nighttime temperatures, even during the summer months.

Organized Group Tent Camping:

Each of the five sites accommodates 30 people or a combined total of 150 campers. The organized group tenting area is adjacent to the camper storage area. The area is open year-round and has rustic toilets and a hand operated water pump.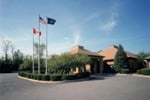 Hotels/Motels
Located near popular recreational attractions, including the Claws 'N' Paws Wild Animal Park, Steamtown National Historic Site and Promised Land State Park. NASCAR fans will enjoy a day at the races at nearby Pocono Raceway.
13.5 miles from park*
Boating: electric motors only

The 170-acre Tobyhanna Lake has 60 overnight mooring spaces. These seasonal spaces require a mooring permit. The boat rental is open daily from Memorial Day Weekend to Labor Day, except in inclement weather. The concession has rowboats and canoes.

Motorboats must display a boat registration from any state. Non-powered boats must display one of the following: boat registration from any state; launching permit or mooring permit from Pennsylvania State Parks that are available at most state park offices; launch use permit from the Pennsylvania Fish and Boat Commission.
---
Tobyhanna State Park is located near East Stroudsburg, Hawley and Lake Ariel
---
Tobyhanna State Park provides four picnic areas with a total of 300 picnic tables. Three of the areas are wooded and one is in an open, grassy area. Picnicking is permitted throughout the year. A small playfield is near Parking Area 4. An accessible picnic pavilion may be reserved up to 11 months in advance for a fee. If unreserved the picnic pavilion is free on a first-come, first-served basis.
Snowmobiling:

Tobyhanna State Park provides a one-way snowmobile trail 5 ? miles in length. Unheated restrooms, parking and unloading space are available in a nearby parking area. A small playfield nearby to this parking area may be used as a machine warm-up area. The trail begins in Lot 1.

Snowmobiles may be operated only on the designated, one-way trail. Snowmobiles may be operated on designated trails and roads from the day following the last deer season in December until April 1, weather permitting.

Trails at Tobyhanna:

The rugged terrain of Tobyhanna and Gouldsboro state parks makes for challenging but rewarding hiking. All trails are blazed. Double blazes indicates a change of direction or a junction of two trails.

Follow these rules for a safe hike:

* An adult should accompany children. * Be sure to wear hiking boots. * Motor vehicles are not permitted on the trails, except snowmobiles are permitted on designated trails.

Lakeside Trail: 5.1 miles, blue blaze, easy hikingThis improved trail has a hardened base for hiking and bicycling in summer and cross-country skiing and snowmobiling in winter. Although not recommended for people with disabilities, wheelchair users have completed the trail. Part of the trail is on the paved road through the campground. Allow at least 2.5 hours to complete the entire trail around Tobyhanna Lake.

Yellow Trail: 3.3 miles, yellow blaze, difficult hikingIt is a 6.6-mile walk from the trailhead on Lakeside Trail to PA Route 196 and back. Allow three hours for this trip. Yellow Trail is a very demanding hike and should not be attempted without the proper hiking footwear. An adult should accompany children and no one should hike the trail alone. Be prepared to ?rock hop? and cross a few minor wet areas. This trail follows the border of the Black Bear and Bender Swamps Natural Area and passes through several other wetlands and boulder fields created by the last glacial period.
---
---
Sterling Inn The
South Sterling, PA
(570) 676-3311
Country Surrey Inn
3rd St
Gouldsboro, PA
(570) 842-2081
Pine Hill Lodge
42 Pine Hill Rd
Mt Pocono, PA
(570) 839-9579
Skytop Lodge
1 Skytop
Skytop, PA
(570) 595-7401
The park entrance is 2.1 miles north of the community of Tobyhanna on PA 423. PA 423 intersects with I-380, 2.5 miles south of the park entrance. The park can also be reached from Interstate 84 via PA 507, PA 191 and PA 423, a total distance of 11.4 miles.