HICKORY RUN STATE PARK
HICKORY RUN STATE PARK
RR 1 Box 81
White Haven, Pennsylvania   18661
Phone:
570-443-0400
Toll Free:
888-727-2757
Reservations:
888-727-2757
Email:

The 15,500-acre Hickory Run State Park, Carbon County, lies in the western foothills of the Pocono Mountains. This large park has over 40 miles of hiking trails, three state park natural areas and miles of trout streams. The Boulder Field, a striking boulder-strewn area, is a National Natural Landmark.
Organized Group Cabin Camps:

Camp Daddy Allen holds 124 people and Camp Shehaqua holds 149 people. The camps are open from the second Friday in April through the third Sunday in October. Located in a wooded setting with adjacent play fields, the camps share a swimming pool that is open from about June 1 to Labor Day. Groups must supply their own certified lifeguards. Camp Daddy Allen has paved walkways and railings but does not meet the new ADA accessibility standards.
Camping: modern sites, some with electric

The large tent and trailer camping area has modern restrooms with hot showers, a sanitary dump station, a forested section and a grassy, more open section. A camp store has general camping supplies, ice, firewood and food.

The modern area is open from the second Friday in April until the third Sunday in October. Rustic camping continues until late December. Pets and alcoholic beverages are prohibited.

Organized Group Tenting:

Nonprofit adult and youth groups can rent one or more of the 14 group sites. This rustic area is open year-round and has picnic tables, fire rings, non-flush toilets and hand water pumps.
A sand beach is open from late-May to mid-September, 8 a.m. to sunset. Lifeguards are on duty from 11 a.m. to 7 p.m. daily from Memorial Day weekend to Labor Day, unless otherwise posted. Please read and follow posted rules for swimming when lifeguards are off-duty. A snackbar has sandwiches, drinks, ice cream and snacks.
---
Hickory Run State Park is located near Hazleton, Kingston and Lehighton
---
The large picnic area is near Sand Spring Lake which has a swimming beach. There are over 400 picnic tables, rustic restrooms, playground equipment, drinking water and garbage containers. A picnic pavilion may be reserved up to 11 months in advance for a fee. If unreserved it is free on a first-come, first-served basis.
Hickory Run State Park offers visitors 43 miles of trails. Of the 43 miles of trails, every trail can be hiked. Hiking-only trails have yellow blazes. Blue-blazed trails allow cross-country skiing and orange-blazed trails allow snowmobiling.

The trails lead through areas rich in historic and scenic interest. This is especially true from mid-June until mid-July when the mountain laurel and rhododendron are in bloom and again in mid-October at the height of the fall foliage.

Be aware of hunting seasons and hunting areas within the park and wear bright clothing in hunting seasons.

Wear proper attire and footwear when hiking.
Diverse habitats and forest types, extensive wild areas and unique geological formations make Hickory Run an excellent outdoor classroom. From March to November, the environmental education specialist conducts hand-on activities, guided walks and presentations on the natural and historical resources for school groups, scouts, civic organizations and the general public. Curriculum-based environmental education programs are available to schools and youth groups. Teacher workshops are available. Group programs must be arranged in advance.
---
---
Mountain Laurel Resort & Spa The
State Highway 940
White Haven, PA
(570) 443-8411
Harmony Lake Shore Inn
LK Hrmny
White Haven, PA
(570) 722-0522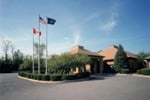 Hotels/Motels
Located near popular recreational attractions, including the Claws 'N' Paws Wild Animal Park, Steamtown National Historic Site and Promised Land State Park. NASCAR fans will enjoy a day at the races at nearby Pocono Raceway.
32.2 miles from park*
From I-80, take Exit 274 at the Hickory Run State Park Exit, and drive east on PA 534 for six miles. From the Northeast Extension of the Pennsylvania Turnpike, take Exit 95 and drive west on PA 940 for three miles then turn east on PA 534 for six miles. The park is within a two or three-hour drive from Harrisburg, Philadelphia, and New York City and one hour from Allentown, Scranton and Wilkes-Barre.