SOUTH TOLEDO BEND STATE PARK
SOUTH TOLEDO BEND STATE PARK
120 Bald Eagle Road
Anacoco, Louisiana   71403
Phone:
888-398-4770
Toll Free:
888-398-4770
Reservations:
888-398-4770
Email:

Pleasantly located on several small bluffs that extend over and into the Toledo Bend Reservoir, South Toledo Bend Reservoir State Park offers a scenic, waterfront view from many vantage points. While the reservoir is nationally recognized as a destination for bass fishing tournaments, visitors to the park can also enjoy other outdoor recreational activities such as hiking, cycling, birding, camping and enjoying the many forms of wildlife in the area.

The area also is a common nesting ground for the bald eagle, which feeds from the plentiful supply of freshwater fish ? including largemouth bass, catfish, bream and white perch ? found in the Reservoir. The avid fisher can set out onto the reservoir at the two-lane boat ramp area, to also enjoy a freshly-caught dinner.

Guests will be able to learn about local animal and plant life at the park?s Visitor Center, with exhibits designed to increase awareness of these species and their role in the environment. An open-air breezeway leads out to the observation deck and a majestic view of the reservoir lake and nearby islands. A 3,000-foot surfaced nature trail provides an opportunity for all visitors to explore the area around the Visitor Center and the RV camping areas.

Also nestled among the trees near the Visitor Center are several picnic tables, so visitors can enjoy a lunch or snack while enjoying their day at South Toledo Bend State Park.

Hours of Operation: 6 a.m. to 9 p.m., Sunday through Thursday. All park sites close at 10 p.m. on Friday, Saturday and days preceding holidays.
13 Premium Campsites (4 pull-through sites, 9 prime location sites, all with water and electrical hookup). 42 Improved Campsites (water and electrical hookup). 5 Tent Campsites (without hookup).
Deluxe Cabins 19 available; 2 are ADA compliant, sleeps up to 8 people with 1 double bed, 2 bunk beds and 1 queen sofa sleeper
Meeting Room Capacity is 60 people for both Conference and Theatre set-ups.
Canoes can be rented which includes paddles, life jackets.
---
South Toledo Bend State Park is

Hodges Gardens State Park
---
Lakeview Nature Trail -- 1/2 mile

Hippie Point Trail -- 1-1/2 miles
Toledo Bend Dam - (on the southern end of Toledo Bend Reservoir, on the Louisiana-Texas border) ? Generates over 2 million kilowatt-hours of energy output annually, which is purchased by Gulf States Utilities, Louisiana Power & Light and CLECO.

Museum of West Louisiana - (South 3rd St., Leesville) ? Housed in the old Kansas City Southern depot, the museum offers exhibits on the culture and life of southwest Louisiana residents along with memorabilia from World War II.

Boise Vernon WMA (12 miles west of Leesville) ? Over 50-thousand acres managed primarily for pine timber. Camping and birding opportunities are available for visitors.

Hodges Gardens State Park (6 miles south of Florien on Hwy. 171) - Day-use visitors will enjoy the nature trails and extensive picnic area. Water from the 225-acre lake is pumped through an extensive system of pools and waterfalls, adding to the beauty of the formal gardens.

Cypress Bend Golf Resort (13 miles west of Many) ? Offers an 18-hole Audubon Golf Trail championship golf course, as well as luxurious accommodations and fine dining. Meeting and conference facilities are also available.

North Toledo Bend State Park (9 miles southwest of Zwolle off LA 3229) - Located on Toledo Bend Reservoir, the park offers fishing, picnicking, boat launch, improved campsites, 10 vacation cabins, group camp facilities, an Olympic-sized swimming pool, pavilion, playgrounds, trails and a conference center.

Fort Jesup State Historic Site (6 miles east of Many off LA 6, formerly the "San Antonio Trace") ? The site of a fort established in 1822 by Zachary Taylor to secure the western border of the U.S. frontier. It features the original field kitchen, a replica of officers' quarters which serves as a museum and visitors center, and interpretive programs.

Los Adaes State Historic Site (1 mile northeast of Robeline on LA Hwy. 485) ? The 14-acre site located on the "El Camino Real" near Natchitoches features the remains of a Spanish fort built in the 1700s to protect Texas from the French. It is a major archaeological site and offers interpretive programs.

Rebel State Historic Site (3 miles northwest of Marthaville on State Hwy. 1221, and 25 miles west of Natchitoches and I-49) ? Features the gravesite of an unknown Confederate soldier and is home of the Louisiana Country Music Museum. An amphitheater offers concerts featuring gospel, country and folk music.

Historic Town of Natchitoches (off I-49 on Cane River Lake) ? The oldest settlement in the Louisiana Purchase, it has a 33-block Historic Landmark District featuring Creole architecture, bed and breakfasts, restaurants, shops and historic homes.

Kisatchie National Forest ? Longleaf Vista National Recreation Trail (25 miles west of Natchitoches and I- 49) ? Take LA 111 east through Anacoco to LA 117 and travel 10 miles north to this trail featuring spectacular views of mesas, buttes, and sandstone outcroppings within the U.S. Forest Service Kisatchie Hills Wilderness Area.
---
---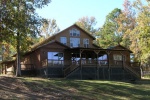 Cottages and Cabins
Whether you are taking advantage of the spectacular fishing and boating on Toledo Bend Lake, hosting a special event, planning a family reunion or holding a business/corporate meeting or retreat, Wildwood can work with you to make sure your stay at the resort is a complete success. Your satisfaction is our goal.
26 miles from park*
Directions: From I-20, take LA 171 south to Anacoco. From Anacoco, turn west onto LA 111/392, then north onto LA 191. Turn west onto Bass Haven Road; the park entrance is approximately one-half mile on the left. To get to the park from I-10/Baton Rouge area, take US 190 to I-49 north to Alexandria; take LA 28 west to Leesville; turn north on LA 171 to Anacoco. For traffic traveling on I-10 from the Lake Charles area, take LA 171 north from Lake Charles into Anacoco.

Hodges Gardens State Park