HODGES GARDENS STATE PARK
HODGES GARDENS STATE PARK
1000 Hodges Loop
Florien, Louisiana   71429
Phone:
800-354-3523
Reservations:
318-568-4020
Email:

Over 700 acres of wild and cultivated beauty, Hodges Gardens State Park, located in Sabine Parish, is a unique member of the State Parks system. Originally designed and opened to the public in 1956 by oil and gas businessman A.J. Hodges Sr., the site's gardens consist of a variety of plants and flowers, from a formal rose garden to bushes that colorful Southern standard, the azalea.
NEWS ALERT
: State is no longer able to maintain the park -
read news story
. Effective October 1, 2017, Hodges Gardens will return to the administration of the
A.J. and Nona Triggs Hodges Foundation.
.
The northwest region of Louisiana bears an interesting history, from the Native American tribes to the French and Spanish settlers to the outlaws of the "No Man's Land" that arose following the Louisiana Purchase. Early explorers passed through the area on their way to Mexico and California, a trail now designated as the historic El Camino Real de los Tejas. In the late 19th century, mining operations in the area provided sandstone for the jetties at Port Arthur, Texas. When the quarry was abandoned, the large natural rock formations remained exposed.
The Hodges recognized the potential of the abandoned quarry on the property and planned a scenic garden using the natural rock formations. Flowers were planted on one level above another, creating a terraced effect. Walkways and footbridges throughout the gardens allow the visitor to stroll through an abundance of flora. Water from a 225-acre lake, built in 1954, is pumped from the lake through the gardens to waterfalls, pools, a geyser, fountains and to the watering system before it is recycled back into the lake. This waterfall is part of a reclamation system that refreshes and recycles the water in the lake.
A testament to one family's contribution to the preservation of our land's natural beauty, Hodges Gardens was donated to the State by the A.J. and Nona Trigg Hodges Foundation in 2007.
Hours of Operation: 6 a.m. to 9 p.m., Sunday through Thursday. All park sites close at 10 p.m. on Friday, Saturday and days preceding holidays.
Standard Cabins 9 available, sleeps up to 4 people with a double bed and a queen sofa sleeper.

Deluxe Cabins 2 available, sleeps 6 people with 2 double beds and a queen sofa sleeper.
Now offers a group camp that sleeps up to 56.
Boats includes 2 paddles and 3 life jackets. Canoes includes paddles, life jackets. Kayaks includes paddles, life jackets
---
Hodges Gardens State Park is located near Leesville
---
5-mile Walking Trail
Emerald Hills Golf Resort - Located across the street from the entrance to the park, the resort offers an 18-hole championship golf course, overnight accommodations and a restaurant. Meeting and conference facilities are also available.

North Toledo Bend State Park (9 miles southwest of Zwolle off LA 3229) - Located on Toledo Bend Reservoir, the park offers fishing, a boat launch, improved campsites, 10 vacation cabins, group camp facilities, an Olympic-sized swimming pool, picnicking, pavilion, playgrounds, trails and a conference center.

Fort Jesup State Historic Site (6 miles east of Many off LA 6, formerly the "San Antonio Trace") - The site of a fort established in 1822 by Zachary Taylor to secure the western border of the U.S. frontier. It features the original field kitchen, a replica of officers' quarters which serves as a museum and visitors center, and interpretive programs.

Mansfield State Historic Site (4 miles south of Mansfield on LA 175) - The site of the last major Confederate victory of the Civil War. Visitors may take daily tours, see interpretive programs, spend time in the museum with its comprehensive collection of Civil War artifacts, and walk the trail through the battlefield area.

Rebel State Historic Site (3 miles northwest of Marthaville on State Hwy. 1221, and 25 miles west of Natchitoches and I-49) - Features the gravesite of an unknown Confederate soldier and is home of the Louisiana Country Music Museum. An amphitheater offers concerts featuring gospel, country and folk music.

Cypress Bend Golf Resort (13 miles west of Many) ? Offers an 18-hole Audubon Golf Trail championship golf course, as well as luxurious accommodations and fine dining. Meeting and conference facilities are also available.

South Toledo Bend State Park (16 miles west of Anacoco, off LA Hwy. 191) - Set on the scenic bluffs of the southern end of the Toledo Bend Reservoir, the park offers cabins, campsites, a visitor center with meeting room facilities and a paved nature trail. A boat launch provides a route to some of the best fishing in the nation.

Los Adaes State Historic Site (1 mile northeast of Robeline on LA Hwy. 485) - The 14-acre site located on the "El Camino Real" near Natchitoches features the remains of a Spanish fort built in the 1700s to protect Texas from the French. It is a major archaeological site and offers interpretive programs.

Fort St. Jean Baptiste State Historic Site (155 rue Jefferson, Natchitoches) - Located on the banks of historic Cane River, the fort is a full-scale replica of a French colonial fort built in the 1730s. Featured are log walls sharpened to protect the barracks, a warehouse, chapel, mess hall, powder magazine, Indian dwellings and interpretive programs.

Historic Town of Natchitoches (off I-49 on Cane River Lake) - The oldest settlement in the Louisiana Purchase, it has a 33-block Historic Landmark District featuring Creole architecture, bed and breakfasts, restaurants, shops and historic homes.

Cane River Country (South of Natchitoches along LA 1) - Features some of the South's oldest plantation homes situated along the 32-mile oxbow-shaped Cane River Lake. The countryside is dotted with pecan orchards, cotton farms, historic landmarks, plantations and churches.

Sabine Wildlife Refuge (5 miles south of Zwolle) - This 14,780-acre area of loblolly and short leaf pine is open to visitors to enjoy hunting, birding and camping.
---
---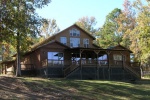 Cottages and Cabins
Whether you are taking advantage of the spectacular fishing and boating on Toledo Bend Lake, hosting a special event, planning a family reunion or holding a business/corporate meeting or retreat, Wildwood can work with you to make sure your stay at the resort is a complete success. Your satisfaction is our goal.
21.1 miles from park*
Directions:From I-20, take Hwy. 171 south. Hodges Gardens State Park is located approximately 14 miles south of Many. From I-10, take Hwy. 171 north. Hodges Gardens State Park is located approximately 20 miles north of Leesville.