MOUNT GILEAD STATE PARK
MOUNT GILEAD STATE PARK
4119 OH-95
Mt Gilead, Ohio   43338
(lat:40.5474 lon:-82.8103)

Phone:
(419) 946-1961
Reservations:
866-644-6727
Mt. Gilead State Park is a quiet, small park centrally located in the state of Ohio. Picnicking, fishing and hiking can be enjoyed year-round at this beautiful location.
The wealth of natural wonders found at Mt Gilead State Park can be traced back to the Ice Age--a time when two-thirds of Ohio was frozen land covered with glacial ice, nearly a mile thick in places. During this age many changes occurred in the Ohio landscape: the stream systems were altered, topography changed and the Great Lakes were formed. The glaciers left Ohio a legacy of valuable natural resources.

In the vicinity of Mt. Gilead, three end moraines (linear ridges of glacial sediment deposited along the ice edge) converged and account for the rolling terrain seen today. A beautiful stand of second growth beech-maple forest exists at Mt. Gilead.

The mature woodlands provide a glimpse of what Ohio was to the early settlers. Wildflowers such as wild geranium, hepatica, trillium and bloodroot, carpet the spring forest floor. The leafy canopy is occupied by the woodthrush, white-breasted nuthatch, Carolina wren and other songbirds. Skunks, raccoons, white-tailed deer and a variety of other mammals make this park their home.
Mt. Gilead State Park is located in Morrow County near the center of the state. The first permanent settlers came into the county after the close of the War of 1812. The first gristmill and sawmill were built on Whetstone Creek in 1821. The town of Mt. Gilead, the county seat, served as a major stop on the underground railroad prior to the Civil War. In more recent history, an oil boom occurred in Morrow County. In 1961, a well was drilled on the Orrie Myers' property that produced 200 barrels a day. As a result of that wells success, 30-40 well are drilled in Morrow County annually.

The first lake at Mt. Gilead was built in 1919 on the upper level of Sam's Creek. On July 10, 1930, a larger lake was completed below the first one on this same tributary of Whetstone Creek. The recreational area was originally under the supervision of the Bureau of Engineering. In 1949, it was turned over to the newly formed ODNR Division of Parks and Recreation to be maintained as a state park.
Ohio does not have an annual pass and does not charge entrance fees to state parks.
Camping
Electric Sites, #
59
Youth Group Camp, capacity
200
Accommodations
Golf Course
yes
A scenic camping area, set in a pine forest, is open all year for camping enjoyment. Facilities include fire rings, picnic tables, waste-water drains and latrines. Four Rent-A-Camp sites which provide a tent, dining canopy, cookstove, sleeping cots and other gear are available near the west end of the park for organized groups. Pet camping is permitted on designated sites.
Mount Gilead State Park in Ohio offers a variety of swimming options for visitors. The park features a 500-foot public beach located on the shore of Mount Gilead Lake, which is open during summer months from Memorial Day to Labor Day.

The sandy beach area provides ample space for sunbathing and picnicking as well as building sandcastles or playing volleyball at the nearby court. Lifeguards are not provided so swimmers should exercise caution when entering water.

In addition to lake swimming, there's also an opportunity for wading along Sam's Creek that runs through the park where children can splash around under adult supervision.

For those who prefer more structured swim activities, private lessons may be available upon request with local instructors but this would need confirmation directly from them since it isn't offered by state parks services itself.

Please note all these facilities require adherence to posted rules regarding safety measures such as no alcohol consumption and proper disposal of trash etc., ensuring everyone has enjoyable experience while preserving natural beauty surrounding them.
Mt. Gilead allows boating with canoes, rowboats and boats with electric motors only. A launch ramp is provided.
The two small lakes at Mt. Gilead offer good catches of bass, bluegill and other panfish. A valid Ohio fishing license is required.
---
Mount Gilead State Park is located near Delaware, Galion and Mansfield

Knox Lake State Wildlife Area

Delaware State Park
---
Several picnic areas are located on the south side of the park. Three picnic shelters are available on a first-come, first-served basis or may be reserved for special occasions.
More than three miles of hiking trails transverse Mt. Gilead State Park. The Sam's Creek Self-guided Nature Trail starts near the east end of the camping area. Trails provide opportunities for exercise, nature study and wildlife observation.
The town of Marion is located west of the park on State Route 95. The President Harding Home and Museum is located at 380 Mount Vernon Avenue. It was from this home that Warren G. Hading conducted his "Front Porch Campaign" in the 1920 presidential elections. Guided tours are available seasonally.

Marion also contains the Harding Memorial on Delaware Avenue at Vernon Heights Boulevard. The memorial --a circular, pillared monument of white Georgian marble--contains the tombs of President and Mrs. Harding.

Kokosing Lake and Knox Lake wildlife areas are found east of Mt. Gilead in Knox County. Both lakes offer fishing and boating opportunities.

Mid Ohio Race Track is located twenty minutes from the park. The course offers weekends of exciting racing, known nationwide on the race circuit.

The city of Mansfield is located northeast of the park on State Route 42 with six shopping centers, the Mansfield Art Center, the Renaissance Theater and the world-famous gardens at Kingwood Center.
---
---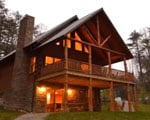 Cottages and Cabins
Trickle Creek offers luxury cabins in Hocking Hills. The cabins are situated on nearly 236 acres of secluded cabin rentals in the deep wooded ravines in the foothills of the Appalachian Mountains in Hocking County, Ohio.
68.6 miles from park*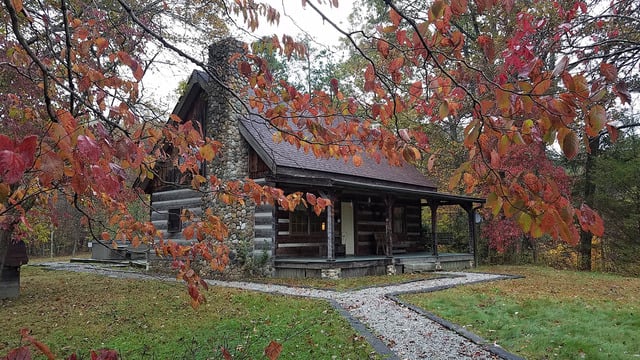 Cottages and Cabins
Hidden Cave Cabin is an authentic log cabin with 2 bedrooms in a private wooded setting. It is located on one of the most scenic drives in Hocking Hills and just 3.6 miles to Rock House and less than 10 miles to Conkle's Hollow and Old Man's Cave.
71.8 miles from park*
Mount Gilead State Park is located in Morrow County, Ohio. The park is situated approximately 44 miles northeast of Columbus, 36 miles southeast of Mansfield, and 62 miles southwest of Cleveland. It covers an area of 181 acres and offers various recreational activities for visitors to enjoy, including camping, hiking, and fishing.

To reach Mount Gilead State Park from Columbus, start by taking I-71 North. Stay on I-71 for about 40 miles until you reach the exit for OH-95 East. Take this exit and continue on OH-95 East for approximately 3 miles. Then, turn left onto Township Road 79, and the park entrance will be on your right.

If you are coming from Mansfield, take US-42 South until you reach the intersection with OH-314. Turn left onto OH-314 and continue for about 12 miles. Next, turn right onto County Road 76, followed by a left onto County Road 76A. Finally, turn left onto Township Road 79, and the park entrance will be on your left.

From Cleveland, start by taking I-71 South. Stay on I-71 for approximately 55 miles until you reach the exit for OH-95 East. Take this exit and continue on OH-95 East for about 3 miles. Then, turn left onto Township Road 79, and the park entrance will be on your right.

Please note that these directions are approximate, and it is always a good idea to consult a map or navigation system for the most accurate and up-to-date directions.

Knox Lake State Wildlife Area

Delaware State Park