MARBLEHEAD LIGHTHOUSE STATE PARK
MARBLEHEAD LIGHTHOUSE STATE PARK
110 Lighthouse Dr
Marblehead, Ohio   43440
(lat:41.5365 lon:-82.7125)

Phone:
(419) 734-4424
Marblehead Lighthouse, one of Lake Erie's best known and most-photographed landmarks, is Ohio's newest state park! The grounds surrounding the lighthouse offer excellent picnicking and views of Lake Erie, Sandusky Bay, Kelleys Island and South Bass Island.
Marblehead Lighthouse, the oldest lighthouse in continuous operation on the Great Lakes, has guided sailors safely along the rocky shores of Marblehead Peninsula since 1822.

In 1819, the fifteenth U. S. Congress recognized the need for navigational aides along the Great Lakes, and set aside $5,000 for construction of a light tower at the entrance to Sandusky Bay. Contractor William Kelly built the 50-foot tower of native limestone on the tip of the Marblehead Peninsula. The base of the tower is 25 feet in diameter, with walls five feet thick. It narrows to twelve feet at the top with two-foot thick walls.

Through history, fifteen lighthouse keepers, two of whom were women, have tended the beacon. The first keeper was Benajah Wolcott, a Revolutionary War veteran and one of the first settlers on the peninsula. He and his family lived in a small stone home on the Sandusky Bay side of the peninsula. Each night, he lit the wicks of the thirteen whale oil lamps that were the original light fixture. Sixteen-inch-diameter metal reflectors helped project the light across the lake. Other duties of the lighthouse keeper included keeping a log of passing ships, noting the weather conditions, and organizing rescue efforts. Upon Wolcott?s death in 1832, his wife, Rachel, took over these duties.

The whale oil lamps were replaced in 1858 by the light from a single kerosene lantern magnified by a Fresnel lens. This specialized, curved glass lens created a highly visible, fixed white light.

A lifesaving station was built one-half mile west of the lighthouse in 1876. Lucien Clemons, who with his two brothers saved two sailors from a shipwreck off the peninsula on May 1, 1875, was named the first commander. In 1880, the lighthouse keeper?s household moved to a wooden frame home in a more convenient location, next to the lighthouse.

The turn of the century ushered in new technology as well as structural changes including the addition of another 15 feet to the tower?s height. A clock-like mechanism was installed to rotate the lantern, creating the appearance of a brilliant flash of light every 10 seconds. This system required that the lighthouse keeper crank the weights every three hours through the night to keep the lantern turning. An improved Fresnel lens with prism surfaces created an even more brilliant beacon.

Modern conveniences came slowly to the timeless light tower. An electric light finally replaced the kerosene lantern in 1923, dramatically increasing the candlepower of the signal. During World War II, the lighthouse became strategically important for national defense. The last civilian lighthouse keeper resigned, and the United States Coast Guard assumed responsibility for the beacon in 1946.

The beacon was automated in 1958, making the Coast Guard?s job easier. With its original finish tattered by time and harsh weather, the exterior of the lighthouse tower was given a fresh coat of new stucco the same year.

The Ohio Department of Natural Resources has maintained the property surrounding the lighthouse since 1972 and proudly accepted ownership of the Marblehead Lighthouse tower in May 1998. The U.S. Coast Guard continues to operate and maintain the lighthouse beacon. Today?s 300 mm lens projects a green signal that flashes every six seconds and is visible for eleven nautical miles. The distinctive green distinguishes the lighthouse signal from white lights coming from air beacons.

Marblehead?s beloved beacon continues to shine and protect boaters from peril in Lake Erie?s unpredictable waters along her rocky shores.
Ohio does not have an annual pass and does not charge entrance fees to state parks.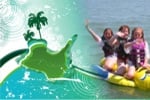 Conference Center
Week long youth camps. Located on the shores of Kelleys Island. Guests will learn to sail, wakeboard, waterski while enjoying the beauty of the Lake Erie island.
4.6 miles from park*
Marblehead Lighthouse State Park in Ohio offers a variety of fishing options for both novice and experienced anglers. The park is located on the shores of Lake Erie, one of the Great Lakes known for its abundant fish species. Visitors can enjoy shore fishing from various points around the lighthouse or use their own boats to venture out into deeper waters.

The lake's diverse ecosystem includes walleye, perch, smallmouth bass among other types which makes it an ideal spot for sportfishing enthusiasts. Ice-fishing is also popular during winter months when conditions are safe enough to walk onto frozen parts of Lake Erie.

Fishing licenses are required by state law and regulations regarding catch limits must be adhered to ensure sustainable practices within this natural resource area.

---
Marblehead Lighthouse State Park is located near Clyde, Huron and Port Clinton
---
The grounds surrounding Marblehead lighthouse offer excellent picnicking. Tables are supported by concrete pads. Portable restrooms are available.
1. The Lighthouse Loop Trail: A 0.5-mile trail that circles the iconic Marblehead Lighthouse, offering panoramic views of Lake Erie's shimmering waters and distant islands.

2. Lakeside Daisy State Nature Preserve Pathway: This short but scenic route takes hikers through a unique habitat home to the rare Lakeside daisy - blooming in May with vibrant yellow flowers against rugged limestone bedrock backdrop.

3. East Harbor State Park Trails: Just south of Marblehead, these trails offer diverse landscapes from marshy wetlands teeming with birdlife to sandy beaches along Lake Erie's shoreline; perfect for wildlife enthusiasts or those seeking solitude amidst nature.

4. Headland Dune Trail: An easy hike on boardwalks over fragile sand dunes covered by native grasses swaying gently in lake breezes while providing stunning sunset vistas across vast water expanses towards Kelleys Island and South Bass Island beyond.

5.The Wet Woods Trail : Meandering through dense hardwood forests filled with towering oak trees draped in Spanish moss creating an ethereal atmosphere especially during early morning foggy conditions.

6.Kipton Quarry Bike Path : For adventure seekers this challenging path offers steep inclines leading up rocky outcrops before descending into abandoned quarries now reclaimed by Mother Nature as serene ponds surrounded by wildflowers fields buzzing with pollinators activity during summer months

7.South Beach Access Point Walkway - Short wooden walkways lead directly onto pristine white sands where waves lap rhythmically at your feet inviting you for refreshing dips after long hikes under Ohio sun

8.Confederate Cemetery Walking Tour- Historical pathway winding past weathered tombstones dating back Civil War era whispering tales bravery sacrifice adding poignant touch hiking experience within park boundaries

9.Fishing Pier Stroll- Leisurely stroll down fishing pier jutting deep into calm blue waters provides opportunities catch sight playful dolphins frolicking near surface or simply enjoy tranquil moments watching boats sail by against backdrop setting sun painting sky in hues orange pink.

10. Birding Trail: A paradise for birdwatchers, this trail offers the chance to spot a variety of migratory birds including warblers and waterfowl amidst lush greenery during spring migration season.

11.The Lighthouse Keeper's House Pathway - This historical path leads you past an old keeper's house now converted into museum showcasing lighthouse history adding cultural dimension your hiking adventure within Marblehead State Park
Tours of Marblehead Lighthouse are very popular. More than 3,800 visitors scaled the lighthouse's spiral stairway in just the first six days of the summer season!
The park, located on the shores of Lake Erie in Ohio, offers a variety of birding opportunities. It is known as one of the best places to spot migratory birds during spring and fall migrations due to its location along major flyways. Bird watchers can expect sightings such as warblers, orioles, thrushes and other songbirds during these periods. The lake's edge also attracts waterfowl like ducks and gulls throughout the year while raptors are often seen soaring overhead.

East Harbor State Park features unlimited opportunities for outdoor recreation. With Ohio's largest state park campground, boating, fishing, swimming and picnicking are popular while nature enthusiasts will enjoy the abundance of waterfowl, shorebirds and other wildlife found in the park's scenic wetlands.

The Lake Erie Islands offer one of Ohio's most unique vacation location. Limestone cliffs, historic wineries, crystal caverns and a shimmering Great Lake greet visitors to the Lake Erie Islands state parks. These four state parks offer unique island retreats with an atmosphere both festive and casual. Fishing, boating and swimming can be enjoyed at each park.

The Ottawa County Visitors Bureau is an excellent source for travel options and ideas all around the Lake Erie Islands area.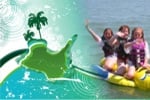 Family Outting
Week long youth camps. Located on the shores of Kelleys Island. Guests will learn to sail, wakeboard, waterski while enjoying the beauty of the Lake Erie island.
4.6 miles from park*
---
---
Herb's Sportsman's Supply
1713 NE Catawba Rd
Port Clinton, OH
(419) 797-2455
Fishermens Trading Post
255 Se Catawba Rd
Port Clinton, OH
(419) 732-2076
Sandy Shore Variety Store Inc
215 Meigs St
Sandusky, OH
(419) 626-1291
Pipe Creek Marina
2312 River Ave
Sandusky, OH
(419) 621-1111
C & J's Bait Shop
235 E Shoreline Dr
Sandusky, OH
(419) 609-3601
Sunnybrook Conference Ctr
1104 Fremont Ave
Sandusky, OH
(419) 625-8353
Captain Hook Sport Fishing Charters
503 Scheid Rd
Sandusky, OH
Unverified listing
Rickard's Bait & Tackle
17 NE Catawba Rd
Port Clinton, OH
(419) 734-2496
Beach Cliff Lodge
4189 NW Catawba Rd
Port Clinton, OH
(419) 797-4553
Char-Nel Shores Resorts
2327 E Sand Rd
Port Clinton, OH
(419) 734-3356
Clarion Inn-Sandusky
1119 Sandusky Mall Blvd
Sandusky, OH
(419) 625-6280
Fort Firelands RV Park
5650 East Harbor Rd
Lakeside Marblhd, OH
(419) 734-1237
Skippers Marina & Resort
7555 East Harbor Rd
Lakeside Marblhd, OH
(419) 734-3664
Campgrounds
Enjoy Southeast Michigan's Best Family Camping experience at our clean, quiet, friendly campground. Jumping Pillow, WiFi, Paddle Boats, Minigolf, Swimming, Bicycling and more
70.1 miles from park*
4049 E Moore's Dock Rd, Port Clinton, OH 43452