OAK POINT STATE PARK
OAK POINT STATE PARK
Bayview Avenue
Put-in-Bay, Ohio   43456
(lat:41.6565 lon:-82.826)

Located on South Bass Island, Oak Point State Park is just 1.5 acres and close to Put-In-Bay. It offers amenities for boaters, anglers, and lake watchers. It's also just a short walk to Perry's Victory and International Peace Memorial. Restrooms and seasonal boat docks provide a respite for boaters, and a shelterhouse with lake views offers a place to picnic and relax.
South Bass Island is dotted with collapsed caverns, which formed from the unique combination of the islands layered dolomite bedrock, and the ever present lake water. Perrys Cave is one of the few that has remained with its roof intact, and one of the largest, at 200 feet long and 165 feet wide. The cave is more than 50 feet below the land surface. A rare underground lake deep within the cave rises and falls with the lake level.
Prior to the late 1700s, the Lake Erie Island region had been occupied by Ottawa and Huron Wyandot Indian tribes. After the Revolutionary War, the land was granted to the former colonies, and land development companies. However, the native Americans had not given up their own claims to these lands, resulting in ongoing conflicts with settlers. The British also remained in the area, harassing American ships, and encouraging the Indian resistance.

In 1807, John Pierpont Edwards of the Connecticut Land Company, was granted ownership of the Bass islands. Edwards deeded the islands to his son, John Stark Edwards, settled on South Bass Island in 1811, and successfully cleared 100 acres and raised a crop of wheat within the first year. In June 1812, the U.S. declared war against Great Britain. Later that summer, the British recaptured their Revolutionary War stronghold, Fort Detroit, and ramped up the conflict. The Lake Erie Islands were evacuated.

Put-in-Bay became a tourist destination by the 1870s, and a number of small hotels were established near the bay. In 1889, promoter J.K. Tillotson began construction of a grand summer resort, the Hotel Victory, on the other side of the island near Stones Cove the site of todays South Bass Island State Park. When it opened in June 1892, Victory Hotel was the largest hotel in the world.
Ohio does not have an annual pass and does not charge entrance fees to state parks.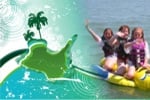 Conference Center
Week long youth camps. Located on the shores of Kelleys Island. Guests will learn to sail, wakeboard, waterski while enjoying the beauty of the Lake Erie island.
7.3 miles from park*