CATAWBA ISLAND STATE PARK
CATAWBA ISLAND STATE PARK
4049 E Moores Dock Rd
Port Clinton, Ohio   43452-9704
(lat:41.5738 lon:-82.8562)

Phone:
(866) 644-6727
Reservations:
866-644-6727
This day-use park offers a fishing pier, launch ramps, restrooms and picnic areas can be found here. No showers and no camping. Swimming is permitted at your own risk.
Limestone cliffs, historic wineries, crystal caverns and a shimmering Great Lake greet visitors to the Lake Erie Islands state parks. These five state parks offer unique island retreats with an atmosphere both festive and casual. Fishing, boating and swimming can be enjoyed at each park.

Several parks comprise the Lake Erie Island group. The islands were formed during the glacial period when massive ice sheets entered Ohio. Glaciers gouged and scoured the bedrock; their tremendous weight left deep depressions which filled with meltwater, forming the Great Lakes.

Lake Erie, the smallest of the Great Lakes, is shallow--allowing for violent storms with high waves. The lake is divided into three basins. The western basin has an average depth of 25 to 30 feet; the central basin averages 61 feet; and the eastern basin shows an average depth of 120 feet.

Lake Erie has high nutrient levels and warm temperatures which produce greater numbers and varieties of fish than any other Great Lake. Annual catches nearly equal the combined catch of all other Great Lakes. Yellow perch, smallmouth bass, white bass, channel catfish and walleye are dominant species.

The islands are composed of limestone bedrock. Small scratches in the rock surface known as glacial striations are common while major grooves such as those found at Kelleys Island are rare but awesome. Vast stands of red cedar and the presence of underground caverns, both associated with limestone are found here. The islands and shoreline support a variety of reptiles including the state's highest concentration of the harmless fox snake. The timber rattlesnake was at one time quite prevalent on the islands but is now gone from the area. Rattlesnake Island was so named due to the presence of this reptile years ago.

Migrating songbirds rest here before winging across the lake. Hundreds of different species have been identified, making this one of the best birdwatching areas in the country. Several nesting pairs of the magnificent bald eagle are located in the area.
Prior to the War of 1812, the Lake Erie Island region had been occupied by Ottawa and Huron (Wyandot) Indian tribes at different times throughout the years. A testimony to their existence on the islands is carved in Inscription Rock on Kelleys Island. Pictographic writings over 500 years old are etched in this massive limestone boulder.The Ottawa and Huron were eventually moved out by European settlers. The War of 1812 ended the last Indian threat to the European settlement of Ohio. One decisive naval battle of that war was fought in Put-In-Bay, off the shores of South Bass Island. Oliver Hazard Perry with an inferior fleet defeated the British making famous his saying, "We have met the enemy and they are ours." The victory gave the Americans control of Lake Erie and led to the ultimate defeat of the British in that war.

The islands remained sparsely settled until 1854 when J.D. Rivers purchased five of the islands. At first he turned Put-In-Bay into a sheep ranch, having at one time a herd of 2,000, but eventually he converted the island into a fruit farm. Despite the extreme northern location, the islands have the longest frost-free period of any area in Ohio due to the stabilizing effect of the lake.

It soon became apparent to islanders that the cultivation of grapes was very profitable. The grape culture has had a dramatic influence on the islands, sometimes called the "Wine Islands." By 1887, more than one-third of the grape product and nearly one-half of the wine product of the entire state was credited to this area. Wines from these islands were once pronounced by the best judges as being comparable to the best productions of France. Several island wineries still exist today.

In addition to raising fruits, the islands supported other profitable industries. Logging of red cedar, quarrying for limestone and the propagation of fish provided additional means of support.

For over a century, South Bass Island has been famous as a summer resort. Ruins of the Victory Hotel, destroyed by fire in 1919, are still evident. Tourism thrives today making the islands one of the most popular vacation spots in the state. The five areas comprising Lake Erie Island state parks were added to the state park system in the early 1950s.
Ohio does not have an annual pass and does not charge entrance fees to state parks.
Boating
Boating Limits
Unlimited HP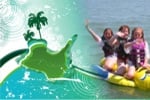 Conference Center
Week long youth camps. Located on the shores of Kelleys Island. Guests will learn to sail, wakeboard, waterski while enjoying the beauty of the Lake Erie island.
8.2 miles from park*
Catawba Island State Park in Ohio offers several swimming options for visitors to enjoy. The park features a beautiful sandy beach along Lake Erie, providing a perfect spot for swimming and sunbathing. Lifeguards are on duty during designated hours to ensure the safety of swimmers. Additionally, there are picnic areas and shaded spots nearby, making it a great place to spend a day with family and friends. Visitors can also take advantage of the park's boat launch area and explore the lake by kayak or paddleboard. Overall, Catawba Island State Park offers a delightful swimming experience in a scenic setting.
Catawba Island State Park in Ohio offers a variety of fishing opportunities for both novice and experienced anglers. The park is located on the western end of Lake Erie, which is known as "The Walleye Capital of the World". Therefore, walleye fishing is one popular activity here.

In addition to walleye, other species that can be caught include yellow perch and smallmouth bass. These fish are abundant throughout different seasons making it an ideal spot for year-round angling activities.

Fishing from shore or pier at Catawba Island State Park does not require any special permits beyond an Ohio Fishing License. However, if you plan to take your boat out onto Lake Erie itself then additional regulations may apply depending upon where exactly you intend to go.

For those who prefer ice-fishing during winter months when conditions allow safe access onto frozen lake surfaces; this too can yield good catches especially with regard to yellow perch population present within these waters.

There's also opportunity for charter boat services available nearby offering guided trips targeting specific types such as trophy-sized specimens among others according their clients' preferences while providing all necessary equipment along professional advice ensuring successful outings regardless individual skill levels involved whether beginners experts alike enjoying what nature has offer amidst beautiful surroundings found around every corner waiting exploration discovery by visitors coming far wide seeking unique experiences only possible through outdoor recreational pursuits like ones offered right here heartland America - truly something everyone enjoy!
---
Catawba Island State Park is located near Fremont, Huron and Port Clinton
---
Catawba Island State Park in Ohio offers several picnicking options for visitors. The park has a designated picnic area with tables and grills where you can enjoy your meal while taking in the beautiful views of Lake Erie.

For those who prefer to be closer to nature, there are also plenty of open spaces throughout the park that would make perfect spots for a blanket picnic. These areas offer stunning lakefront vistas and an opportunity to spot local wildlife like birds or squirrels.

If you're planning on bringing a larger group, consider reserving one of Catawba Island State Park's shelter houses. Equipped with large tables and nearby restroom facilities, these shelters provide ample space for bigger gatherings such as family reunions or company outings.

In addition to traditional picnics, this state park is ideal for barbecues thanks its numerous charcoal grills scattered around the grounds. Just remember that alcohol consumption is not permitted within any Ohio state parks including Catawba Island State Park.

Finally, if fishing is part of your plan during your visit at Catawaba island then it's good news because they have cleaning stations available which makes it convenient after catching fish from their pier; making fresh grilled seafood possible right away!

Remember though all trash must be packed out when leaving so bring along some garbage bags too!
This Ohio state park offers a variety of birding options, attracting both casual and serious birdwatchers. It is located on the migratory path for many species, making it an excellent spot to observe seasonal migrations. The diverse habitats within the park - including wetlands, woodlands and lake shorelines - support a wide range of birds such as warblers during spring migration or waterfowl in winter months. Bird watchers can also enjoy spotting resident species throughout the year like Bald Eagles or Red-tailed Hawks.

Several other state parks are near the Lake Erie Islands. Crane Creek State Park, west of Port Clinton, is one of the state's foremost birding areas and is notable for its spring and fall bird migrations. East Harbor State Park on Marblehead Peninsula sports the largest campground in the Ohio state park system. Swimming, picnicking, boating and fishing are popular at East Harbor. Marblehead Lighthouse, built in 1821, is the oldest lighthouse in continuous operation of the Great Lakes and Ohio's 73rd state park. It is located off S.R. 163 on the east side of the Village of Marblehead.

State nature preserves located in the area include Sheldon Marsh, Old Woman Creek, Erie Sand Barrens and DuPont Marsh. Contact the ODNR Division of Natural Areas and Preserves for more information.

The Ottawa County Visitors Bureau is an excellent source for travel options and ideas all around the Lake Erie Islands area.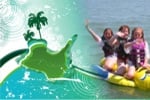 Family Outting
Week long youth camps. Located on the shores of Kelleys Island. Guests will learn to sail, wakeboard, waterski while enjoying the beauty of the Lake Erie island.
8.2 miles from park*
---
---
Herb's Sportsman's Supply
1713 NE Catawba Rd
Port Clinton, OH
(419) 797-2455
Port Clinton Fisheries Inc
2 Madison St
Port Clinton, OH
(419) 732-3101
Fishermens Trading Post
255 Se Catawba Rd
Port Clinton, OH
(419) 732-2076
Fisherman's Wharf
83 Madison St
Port Clinton, OH
(419) 734-9002
Sassy Sal Charters
40 Jefferson St
Port Clinton, OH
(419) 732-7755
Shore Nuf Charters
247 W Lakeshore Dr
Port Clinton, OH
(419) 732-2958
Drawbridge Marina
247 W Lakeshore Dr
Port Clinton, OH
(419) 734-4422
Sunnybrook Conference Ctr
1104 Fremont Ave
Sandusky, OH
(419) 625-8353
Brands Dry Dock Marina
315 W Lakeshore Dr
Port Clinton, OH
(419) 734-9753
Rickard's Bait & Tackle
17 NE Catawba Rd
Port Clinton, OH
(419) 734-2496
Johnny's Resort Incorporated
3942 W Oliver Dr
Port Clinton, OH
(419) 734-6566
Scrappin' at Country Corner
3872 Harbor Light Landing Dr
Port Clinton, OH
(419) 734-1616
Beach Cliff Lodge
4189 NW Catawba Rd
Port Clinton, OH
(419) 797-4553
Beachfront Resorts
252 W Lakeshore Dr
Port Clinton, OH
(419) 732-6684
Char-Nel Shores Resorts
2327 E Sand Rd
Port Clinton, OH
(419) 734-3356
West Bay Inn
1230 W Lakeshore Dr
Port Clinton, OH
(419) 746-2597
Shores Condominium Resort The
1801 E Perry St
Port Clinton, OH
(419) 734-2169
Fort Firelands RV Park
5650 East Harbor Rd
Lakeside Marblhd, OH
(419) 734-1237
Skippers Marina & Resort
7555 East Harbor Rd
Lakeside Marblhd, OH
(419) 734-3664
Campgrounds
Enjoy Southeast Michigan's Best Family Camping experience at our clean, quiet, friendly campground. Jumping Pillow, WiFi, Paddle Boats, Minigolf, Swimming, Bicycling and more
62.3 miles from park*
Use Mapquest and the address provided below to create a custom set of directions from your location to the Park:

Catawba Island, 4049 E. Moores Dock Road, Port Clinton, OH 43452