OAK POINT STATE PARK
OAK POINT STATE PARK
Bayview Avenue
Put-in-Bay, Ohio   43456
(lat:41.6565 lon:-82.826)

Located on South Bass Island, Oak Point State Park is just 1.5 acres and close to Put-In-Bay. It offers amenities for boaters, anglers, and lake watchers. It's also just a short walk to Perry's Victory and International Peace Memorial. Restrooms and seasonal boat docks provide a respite for boaters, and a shelterhouse with lake views offers a place to picnic and relax.
South Bass Island is dotted with collapsed caverns, which formed from the unique combination of the islands layered dolomite bedrock, and the ever present lake water. Perrys Cave is one of the few that has remained with its roof intact, and one of the largest, at 200 feet long and 165 feet wide. The cave is more than 50 feet below the land surface. A rare underground lake deep within the cave rises and falls with the lake level.
Prior to the late 1700s, the Lake Erie Island region had been occupied by Ottawa and Huron Wyandot Indian tribes. After the Revolutionary War, the land was granted to the former colonies, and land development companies. However, the native Americans had not given up their own claims to these lands, resulting in ongoing conflicts with settlers. The British also remained in the area, harassing American ships, and encouraging the Indian resistance.

In 1807, John Pierpont Edwards of the Connecticut Land Company, was granted ownership of the Bass islands. Edwards deeded the islands to his son, John Stark Edwards, settled on South Bass Island in 1811, and successfully cleared 100 acres and raised a crop of wheat within the first year. In June 1812, the U.S. declared war against Great Britain. Later that summer, the British recaptured their Revolutionary War stronghold, Fort Detroit, and ramped up the conflict. The Lake Erie Islands were evacuated.

Put-in-Bay became a tourist destination by the 1870s, and a number of small hotels were established near the bay. In 1889, promoter J.K. Tillotson began construction of a grand summer resort, the Hotel Victory, on the other side of the island near Stones Cove the site of todays South Bass Island State Park. When it opened in June 1892, Victory Hotel was the largest hotel in the world.
Ohio does not have an annual pass and does not charge entrance fees to state parks.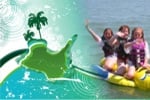 Conference Center
Week long youth camps. Located on the shores of Kelleys Island. Guests will learn to sail, wakeboard, waterski while enjoying the beauty of the Lake Erie island.
7.3 miles from park*
---
Oak Point State Park is located near Port Clinton, Sandusky and Elyria
---
1. Redwing Trail: This 1.6-mile loop trail takes hikers through a dense oak-hickory forest, offering scenic views of the surrounding landscapes. Visitors can expect to spot wildlife such as deer and various bird species along the way.

2. Buckeye Trail: As part of the statewide Buckeye Trail, this section within Oak Point State Park stretches for approximately 4 miles. Hikers can enjoy picturesque views of the Grand River as they traverse through dense woods and open meadows.

3. Overlook Trail: Providing breathtaking views of Lake Erie, the 1.2-mile Overlook Trail is a favorite among visitors. This easy-to-moderate trail winds through a mixed hardwood forest, leading to a scenic overlook where hikers can relax and take in the stunning panoramic vistas.

4. River Valley Trail: This 3-mile trail follows the Grand River, offering hikers a chance to explore the natural beauty of the park's riparian habitat. Along the way, visitors can enjoy the serene sounds of the flowing river, while also spotting various species of waterfowl and other wildlife.

5. Lost Lake Trail: Tucked away in the southern part of Oak Point State Park, the 2.5-mile Lost Lake Trail is a hidden gem. Hikers can expect a peaceful and secluded experience as they make their way through lush wetlands, keeping an eye out for unique plant and animal species.

6. Pine Ridge Trail: Spanning approximately 1.8 miles, the Pine Ridge Trail takes hikers through a dense pine forest, providing a cool and shaded environment on hot summer days. This trail offers a tranquil setting and is a great option for those seeking a quieter hiking experience.

7. Valley View Trail: As the name suggests, this 2.3-mile trail offers picturesque views of the Grand River Valley. Hikers can take in breathtaking sights while winding through wooded areas and ascending gentle inclines, making it a moderate hike suitable for most skill levels.

8. South Bluff Trail: For hikers seeking a bit more challenge, the South Bluff Trail offers a strenuous 3.5-mile loop through rugged terrain. This trail leads to the park's highest point, providing breathtaking views of Lake Erie and the surrounding landscape.

9. North Overlook Trail: Located in the northern section of the park, the 1.1-mile North Overlook Trail is perfect for those looking for a quick yet rewarding hike. This trail offers stunning views of Lake Erie from atop the cliffs and includes a boardwalk section that enhances the scenic experience.

10. Meadow Loop Trail: Ideal for a leisurely stroll or a family outing, the Meadow Loop Trail spans 0.6 miles and showcases the park's beautiful wildflower meadows. Visitors can enjoy the vibrant colors of the flora while observing various bird species that thrive in this habitat.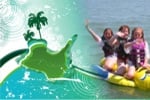 Family Outting
Week long youth camps. Located on the shores of Kelleys Island. Guests will learn to sail, wakeboard, waterski while enjoying the beauty of the Lake Erie island.
7.3 miles from park*
---
---
Herb's Sportsman's Supply
1713 NE Catawba Rd
Port Clinton, OH
(419) 797-2455
Fishermens Trading Post
255 Se Catawba Rd
Port Clinton, OH
(419) 732-2076
Rickard's Bait & Tackle
17 NE Catawba Rd
Port Clinton, OH
(419) 734-2496
Beach Cliff Lodge
4189 NW Catawba Rd
Port Clinton, OH
(419) 797-4553
Char-Nel Shores Resorts
2327 E Sand Rd
Port Clinton, OH
(419) 734-3356
Fort Firelands RV Park
5650 East Harbor Rd
Lakeside Marblhd, OH
(419) 734-1237
Skippers Marina & Resort
7555 East Harbor Rd
Lakeside Marblhd, OH
(419) 734-3664
Campgrounds
Enjoy Southeast Michigan's Best Family Camping experience at our clean, quiet, friendly campground. Jumping Pillow, WiFi, Paddle Boats, Minigolf, Swimming, Bicycling and more
61.1 miles from park*
Privately operated ferries offer frequent daily service for cars, bicyclists and pedestrians from the mainland at Catawba, Put-In-Bay and Sandusky. Golf carts and bicycles are available for rent from private vendors. The Lake Erie Shores and Islands Welcome Center is an excellent source for travel options and ideas.