LAKE ALMA STATE PARK
LAKE ALMA STATE PARK
422 Lake Alma Road
Wellston, Ohio   45692
(lat:39.1483 lon:-82.5162)

Phone:
(740) 384-4474
Reservations:
866-644-6727
In the midst of some of Ohio's most rugged, scenic territory lies Lake Alma State Park. A quiet lake and a gentle creek meandering through a wooded valley provide a restful setting for park visitors.
Lake Alma lies nestled in the heart of the unglaciated hill country of Ohio. These hills are part of the Appalachian Highlands. Most of the rock layers are acidic sandstones, shales and coals with an occasional limestone member. Much time has passed since the region was first uplifted from the ancient sea that once covered Ohio--allowing for the development of many different habitats. Today, this region supports more than seventy percent of Ohio's remaining woodlands on only one-third of the state's land. Lake Alma contains a fine example of the second growth forest now covering this part of the state. In this area, the forest is mainly of a mixed oak composition.

With the advent of forest succession on surrounding farmlands, upswings in the population of deer, grouse, gray squirrel and other woodland species were encouraged. In the late 1950s, wild turkeys were reintroduced into this part of the state giving Vinton County the highest population of this species. Other valuable resources found at Lake Alma include a vast array of woodland wildflowers such as large-flowered trillium, wild geranium and hepatica. The forest floor is blanketed with a variety of ferns, mosses and lichens. The woodthrush, pileated woodpecker, great-horned owl and barred owl make this park their home.
A wilder country than this in early days would be hard to imagine. Rocks and intermingled forests, Indians, wolves, wild game and snakes were more numerous than interesting.

After the Treaty of Greenville of 1795, the Indian threat in the Ohio territory subsided, clearing the way for settlement. The first geological survey of Ohio revealed that Vinton County was rich in mineral resources. Millstone, coal and iron ore provided the resources for flourishing industries.

The charcoal iron industry spurred growth in this Hanging Rock iron region. From 1818 to the turn of the century, thousands of acres of woodlands were cut to fuel the 46 furnaces in the region. At its peak in the mid-1800s, Ohio was the nation's leading producer of iron for implements and weapons. The millstones quarried along Raccoon Creek helped alleviate the dependence upon imported French and Pennsylvania buhrstone. The Raccoon Creek quarry was only one of eight millstone manufacturers in Ohio in the mid-1800s.

For a time, coal was an important Vinton County export. Its importance has waned in this century but continues to provide a boost to the local economy. The timber industry is the county's most important business today. Vinton County is the least populated and most heavily forested county in the state.

Built in 1903 by the late C.K. Davis, a wealthy coal operator, Lake Alma was originally constructed as an amusement park. The park then boasted a large dance pavilion, outdoor theater, a merry-go-round and several other rides. This attraction prospered only until 1910 and was later purchased by the city of Wellston for a municipal water supply. The city leases the area to the ODNR Division of Parks and Recreation for operation as a state park.
Ohio does not have an annual pass and does not charge entrance fees to state parks.
Nearby State Forest, acres
2,500
Nearby Wildlife Area, acres
1,825
Lake Alma offers 60 campsites suitable for tents or trailers. All sites are wooded and have electricity. Pet camping is available on designated sites. Facilities include pit latrines, tables, fire rings, dump station and drinking water.
Two public beaches are located on the north side of the lake. Change booths, latrines and parking are provided.
Non-powered watercraft and boats with electric motors only are permitted on Lake Alma. A boat launch ramp is located at the northeast edge of the lake.
Bass, bluegill, crappie and channel catfish provide good catches in the lake. A valid Ohio fishing license is required.
---
Lake Alma State Park is located near Jackson, Chillicothe and Lancaster
---
Scenic picnic areas with tables and grills are located throughout the park. Three picnic shelters are located throughout the park. The picnic shelters are available on a first-come, first-served basis.
Approximately four miles of trail traverse hilltops and valleys offering hikers a scenic view of the park. A 1-mile paved walkway/bicycle path begins at the park entrance and ends at the park exit.
The park offers a variety of birding options for enthusiasts. It is home to diverse species, including waterfowl and songbirds that can be spotted around the lake or in wooded areas. The 60-acre lake attracts birds such as ducks, geese and herons while forested regions are ideal for spotting warblers, woodpeckers and owls among others. Birdwatchers may also encounter raptors like hawks or eagles soaring above open fields within the park's boundaries.

Lake Hope State Park is 24 miles north off State Route 278. Cabins, a camp area, dining lodge and other recreational facilities are provided there.

Lake Katherine State Nature Preserve in Liberty Township on County Road 60 is a 1,467-acre botanical preserve. Lake Katherine contains the largest and finest colonies of both the bigleaf and umbrella magnolias. The rich forested ravines of the preserve contain communities of hemlock, sweet gum, birch and beech. The drier ridgetops support mountain laurel, Virginia pine and oak. Many rare plants including several species of native orchids are found here.

Lake Rupert of Wellston Wildlife Area, four miles south of McArthur, provides excellent opportunities for fishing. Pike, largemouth bass and bluegill provide good catches while the wildlife area offers good hunting for rabbit, deer and squirrel.

Leo Petroglyph State Memorial is located southwest of the park on County Road 28. The area features rock carvings made by Fort Ancient Indians. Trails and picnic facilities are provided.

Buckeye Furnace State Memorial, located southeast of Wellston, is a reconstructed iron furnace of the Hanging Rock district. The complex includes the changing house, charcoal and casting sheds and the company store.
---
---
Williams Bait & Tackle
1268 S Pennsylvania Ave
Wellston, OH
(740) 384-6163
Jeff's Bait & Tackle
259 Bridge St
Jackson, OH
(740) 286-0107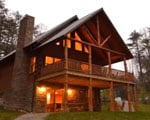 Cottages and Cabins
Trickle Creek offers luxury cabins in Hocking Hills. The cabins are situated on nearly 236 acres of secluded cabin rentals in the deep wooded ravines in the foothills of the Appalachian Mountains in Hocking County, Ohio.
29.8 miles from park*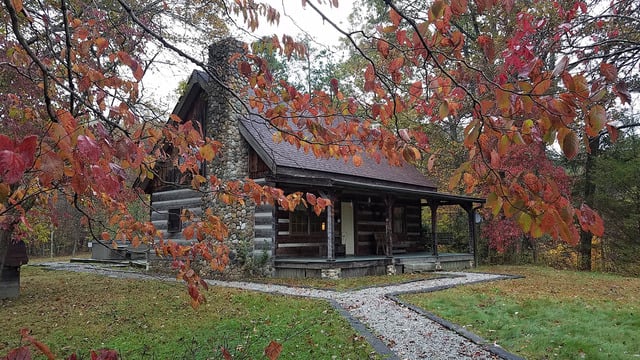 Cottages and Cabins
Hidden Cave Cabin is an authentic log cabin with 2 bedrooms in a private wooded setting. It is located on one of the most scenic drives in Hocking Hills and just 3.6 miles to Rock House and less than 10 miles to Conkle's Hollow and Old Man's Cave.
26.1 miles from park*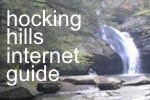 Tourism
Offical Guide to Southeastern Ohio's Scenic Wonderland, the Hocking Hills. The 9 State Parks and State Forests. How to get there, things to do, interesting local merchants, what to see, places to stay. Reserve your cabin or campsite online
17.4 miles from park*
Lake Alma State Park is located in rural Vinton County, Ohio. The park offers various recreational activities, including fishing, boating, hiking, and camping. To reach Lake Alma State Park from the city of Columbus, follow these directions:

1. Start by heading southeast on I-70 E.
2. Continue on I-70 E for approximately 46 miles.
3. Take exit 132 for OH-674 toward Canal Winchester.
4. Turn left onto OH-674 S/Bixby Rd NW.
5. Continue on OH-674 S for about 10 miles.
6. Merge onto US-33 E via the ramp to Lancaster.
7. Stay on US-33 E for approximately 48 miles.
8. Take exit 14B for OH-683 N toward McArthur.
9. Merge onto OH-683 N.
10. Continue on OH-683 N for approximately 10 miles.
11. Turn right onto OH-93 S.
12. Continue on OH-93 S for about 2 miles.
13. Lake Alma State Park will be on your left.

Safe travels and enjoy your visit to Lake Alma State Park!