HIGH POINT STATE PARK
HIGH POINT STATE PARK
1480 New Jersey 23
Sussex, New Jersey   07461
(lat:41.2934 lon:-74.699)

Phone:
973-875-4800
Reservations:
973-875-4800
Email:

The view from High Point Monument, at 1,803 feet above sea level, is a spectacular panorama of rich farmland and forest, soft hills and lush valleys in three states. The blue line of the Delaware River divides the verdant ridges of New Jersey from those of Pennsylvania. High Point offers superb trails for hikers and skiers and quiet spots for campers and anglers.
The land for High Point State Park, donated by Colonel Anthony R. and Susie Dryden Kuser, was dedicated as a park in 1923. The pleasant landscaping was designed by the Olmsted Brothers of Boston, a prominent landscape architectural firm of that time. The brothers were the sons of the eminent Frederick Law Olmsted, who designed Central Park.
Campsites: 50 tent sites (no trailers) along Sawmill Lake with fire rings and picnic tables. Flush toilets are within walking distance. Open April 1 through October 31. $20 per night.

Group campsites: Two group campsites, accommodate 25 and 35 people each. Drinking water, pit toilets. Open May 15 through October 15. Site A - $35 per night, Site B - $25 per night
Cabins: Two cabins each with furnished living room with a woodstove; three bedrooms -one room with double bed, two rooms with twin beds; kitchen with hot and cold running water, electric stove, refrigerator; bathroom with shower, toilet, and sink. Electricity. Cabins are located on eastern shore of Steenykill Lake. Each accommodates six people. With prior permission from the superintendent, two additional people may be accommodated. Cabins are open from May 15 to October 15. $65 per night, $455 per week.

Group cabin: Living room with woodstove, full kitchen, two bunkrooms with double bunks, bathrooms, showers. Accommodates up to 28 people. Open May 15 through October 15. $155 per night; Two-night minimum.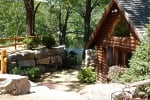 Cottages and Cabins
Cedar Lakes is a gorgeous 500-acre estate surrounding twin cedar lakes. We have a selection of deluxe cottages for nightly or weekly rentals. Enjoy hiking, boating, fishing, tennis, and swimming on the property. Cottages have full kitchens, fireplaces, WIFI, and great amenities--all for the price of a hotel.
4.8 miles from park*
The spring-fed waters of the 20-acre Lake Marcia are cool and refreshing for swimmers. The beach is protected by lifeguards and there is a bathhouse and food concession adjacent to the beach. Inner tubes, rafts and other flotation devices are not permitted in the swimming area. Only Coast Guard approved life jackets are permitted. Pets are prohibited on the beach.
Boats may be launched at specific locations at Sawmill Lake and Steenykill Lake. Boating is permitted subject to New Jersey's boating regulations and NJ State Park Service rules. Check with the park office for launch sites. Coast Guard approved personal flotation devices are required for each boat occupant. Power boats are limited to electric motors only.
---
High Point State Park is located near Middletown, Milford and Newton
---
Several picnic areas with table and grills are located throughout the park. For larger groups, we also offer three reservable picnic shelters that can accomodate up to 75 people each. In addition, group picnic Shelter #1 has playground equipment and Shelter #2 offers playfields and playground equipment. These areas may be reserved for a fee:

$55.00 per day, plus applicable parking fees for reservations for Memorial Day weekend through Labor Day.

$80.00 per day for reservations for the Day After Labor Day to Friday Before Memorial Day.

Group Picnic Cancellation Fee: 50 percent of Fee.

*Groups of 20 or more people shall reserve picnic facilities at least five days in advance. Such group use is not permitted on Holidays except as authorized by the Superintendent. Reservations for picnic areas are handled by the individual park area offices.
With over 50 miles of trails, High Point State Park offers visitors a variety of trail options throughout the year, Designated multiple-use trails are available for hiking, mountain biking, horseback riding, cross country skiing, snowshoeing, dogsledding and snowmobiling. Trails vary in length from one half-mile to 18 miles and take visitors through unique and diverse landscapes including an Atlantic white cedar swamp, mountain ridge tops with 360-degree views, dense forests, fields and wetlands.

Appalachian Trail

To the south, the Appalachian Trail follows a rocky ridge which offers many scenic views of the valleys and mountains surrounding the area. To the north, the trail drops off the ridge through hemlock gorges into former agricultural fields with a view of the surrounding countryside and the High Point Monument in the distance.

Cedar Swamp Trail

The Dryden Kuser Natural Area includes a distinctive bog, locally called the Cedar Swamp. The Cedar Swamp Trail makes a one and a half mile loop around the bog. The trail guide described the spring-summer vegetation and other features of the bog and the surrounding area. The descriptions in the guide correspond to numbered posts on the trail. As you enjoy the natural beauty of this area, please remember to leave it undisturbed for future visitors.

High Point Cross Country Ski Center

Winter months find cross-country skiers on the 15 km of groomed trails in the park. Half of the trails are covered by artificial snow. Cross-country skis and other winter sports equipment are available for rent. A blazing fire, hot soup and other hearty food greet visitors at the center on Lake Marcia. For information, call (973) 702-1222.
High Point Monument

The monument was built through the generosity of the Kusers, in honor of all war veterans. Construction was started in 1928 and completed in 1930. At the top of the 220-foot structure, observers have a breathtaking view of the ridges of the Pocono Mountains toward the west, the Catskill Mountains to the north and the Wallkill River Valley in the southeast.

Lake Marcia

The spring-fed 20-acre natural lake is cool and refreshing for swimmers. The beach is protected by lifeguards and there is a bathhouse and food concession adjacent to the beach.

Dryden Kuser Natural Area (1,500 acres)

At 1,500 feet above sea level, the Atlantic white cedar swamp in Dryden Kuser Natural Area is the highest elevation swamp of its kind in the world. A self-guided trail booklet for those who wish to hike the swamp trail is available at the park office. Endangered species include the three-tooth cinquefoil and Cooper's hawk.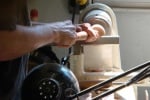 Arts/Cultural/Drama
Peters Valley is a non-profit education center and gallery for craft arts. Tour the studios on weekends during summer. Workshops May to September, 2 to 5 days. Expert instructors from US and abroad. Commute or sleep over for a mini-vacation close-to-home. Wood turning, weaving, jewelry, ceramics, blacksmithing, photography, papermaking, beading and more.
8.6 miles from park*
---
---
Curt's Sporting Goods-Bait
390 State Route 97
Sparrow Bush, NY
(845) 856-5024
Cross Current Guide Service
100 Laurel Acres Rd
Milford, PA
(570) 296-6919
Matamoras Rod & Gun Club
120 Rod and Gun Club Rd
Milford, PA
(570) 409-9330
Greenville Inn
980 Us Route 6
Port Jervis, NY
(845) 856-3878
Malibu Dude Ranch
351 Foster Hill Rd
Milford, PA
(570) 296-7281
Myer Motel
600 Route 6 and 209
Milford, PA
(570) 296-7223
Milford Motel
591 Route 6 and 209
Milford, PA
(570) 296-6411
Eddy Farm Enterprises LLC
100 Eddy Farm Rd
Sparrow Bush, NY
(845) 858-4300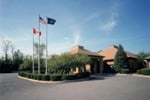 Hotels/Motels
Located near popular recreational attractions, including the Claws 'N' Paws Wild Animal Park, Steamtown National Historic Site and Promised Land State Park. NASCAR fans will enjoy a day at the races at nearby Pocono Raceway.
35.9 miles from park*
Take Route 23 approximately 7 miles north of the town of Sussex, NJ, or 4 miles south of Port Jervis, NY.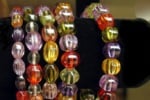 Arts Crafts
The store at Peters Valley Craft Center offers original handcrafted art, jewelry, clothing, ceramics, and home furnishings. Unique items from over 300 artists offer distinctive ideas to embellish the home, treat yourself, or to select for a gift. Visit the Gallery upstairs for our latest exhibit of fine art craft.
8.6 miles from park*