FORT HILL STATE MEMORIAL
FORT HILL STATE MEMORIAL
13614 Fort Hill Rd
Hillsboro, Ohio   45133-9033
(lat:39.123 lon:-83.3961)

Phone:
(800) 283-8905
Fort Hill State Memorial is a nature preserve containing one of the best preserved Indian hilltop enclosures in North America. The Hopewell Indians (100 B.C.-A.D. 500) constructed the 1 1/2 mile long earthwork hilltop enclosure as well as at least two ceremonial buildings and probably a village in the Brush creek Valley.

Lying at the western edge of the Allegheny Plateau, immediately south of the glacial boundary, this hilly area contains an impressive diversity of bedrock, soils, flora, and fauna. There are 11 miles of hiking trails at the 1,200 acre preserve as well as a picnic area. The museum reopened in the fall of 2000 after an extensive renovation. New exhibits include a variety of hands-on and interactive, multimedia displays depicting the geology, flora and fauna of Fort Hill..
North Bay Cottages
11083 N Shore Dr
Hillsboro, OH
(937) 393-2849
Tu-Lakes Motel
7420 N Beach Rd
Hillsboro, OH
(937) 393-1917
Lazy H Cabin Rentals
14889 Old 50
Bainbridge, OH
(937) 365-1961
Holiday Cottages
6837 Mccoppin Mill Rd
Hillsboro, OH
(937) 365-1331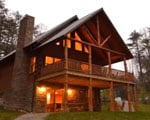 Cottages and Cabins
Trickle Creek offers luxury cabins in Hocking Hills. The cabins are situated on nearly 236 acres of secluded cabin rentals in the deep wooded ravines in the foothills of the Appalachian Mountains in Hocking County, Ohio.
56.4 miles from park*