ROCKY FORK STATE PARK
ROCKY FORK STATE PARK
9800 N Shore Dr
Hillsboro, Ohio   45133
(lat:39.1883 lon:-83.5313)

Phone: 937-393-4284
Reservations: 866-644-6727
Rocky Fork State Park is a paradise for outdoor enthusiasts. Unlimited horsepower boating allows for excellent skiing on the lake which also provides catches of bass, muskellunge and walleye for skilled fishermen. A scenic gorge, dolomite caves and natural wetlands add to the popularity of this recreation area.
Rocky Fork State Park nestled in Highland County derives its name from the stream flowing through the park. This stream, winding over dolomite limestone, has eroded spectacular gorges and caves which we can enjoy today.

Present-day Rocky Fork Creek flows through an ancient valley. Blocked by glacial ice more than 12,000 years ago, the stream reversed direction and rapidly cut the 75-foot gorge seen today. Caves in the region formed as rainwater, trickling through the limestone, dissolved the bedrock. Dolomite limestone is particularly vulnerable to this type of weathering. Sullivantia, extremely rare in Ohio, blooms in the gorge. The small white flowers can be seen from the moist cliff face in mid-summer. Other wildflowers include wild geranium, jewelweed, yarrow and Queen Anne's lace.

Rocky Fork provides habitat for numerous waterfowl, songbirds, raccoons, skunk, red fox and white-tailed deer. The wetlands in the park are home to the green frog, bullfrog, opossum and muskrat.
Rocky Fork State Park is an area steeped in the rich Indian history of Ohio. The land provided abundant game and a ready transportation system in the nearby creeks and rivers. These same streams provided access to the Rocky Fork area for the first settlers.

Plentiful water attracted a number of millwrights to the Highland County region. During the 1800s and the early 1900s, at least six different mill sites were established along Rocky Fork's banks. These mills not only ground flour, but also cut lumber, carded wool and even wove blankets. Water-powered industry was instrumental in the early development of the locale.

The only mill remaining on the Rocky Fork is the J. A. McCoppin Mill found just below the Rocky Fork spillway and operated until the 1970s. First built by David Reece in 1810, the earliest mill was washed out during high water. Soon after the destructive flood, the present cut-stone dam was built. These mills were the focal point of early rural life.

In 1897, surveyors for a proposed railroad came to the countryside that would one day be the park. Local people had high hopes that the new "Black Diamond" rail line would bring prosperity to the area. The addition of rail transportation would enable the local mills to ship flour and other mill industry goods all over the country. There was to be a depot built in Rainsboro with a stockyard and telegraph office. Meetings were held by railroad officials to secure a right-of-way from nearby landowners. A town was planned near McCoppin's (at that time Costello's) Mill. Unfortunately, the "Black Diamond" never got past the planning stages, and the new town of Lodore never came to be.

The eastern part of Highland County has been a resort location for many years. The "Seven Caves" and nearby Rocky Fork gorge attracted visitors even in the mid 1800s. At the turn of the century, Colonel Walter H. Hutchins, a regular visitor to the area from Cincinnati, first dreamed of building a dam near McCoppin's Mill. He was the lake's biggest promoter and saw construction begin in 1949. The first water spilled over the dam in April 1953. Since that summer, thousands of people have visited Rocky Fork State Park. The lake has become a favorite of fishermen and water sports enthusiasts.
Mountain Bike Trails, miles
2
Boating Limits
Unlimited HP
Accommodations
Restaurant
yes
There are 190 campsites suitable for trailers and tents at the northwest corner of the lake. The campground is equipped with showers, flush toilets, laundry facilities, dump station, camp store and campers' beach. Electric hookups are available at 130 sites, with an additional 20 sites offering full-service hookups. Pet camping is permitted on designated sites in both the electric and non-electric areas. A launch ramp and tie-ups are provided for campers with boats.

A separate group camp may be reserved by contacting the park office. The recreation barn also may be rented. It contains meeting space, restrooms, showers and a modified kitchen.
Three marinas are located around the lake. One marina provides fuel; all three have launch ramps, docking space and parking. The East Shore Marina includes a modern restaurant while a snack bar is provided at North Beach.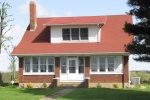 Cottages and Cabins
Private retreat surrounded by 35 acres of farmland with a beautiful view of Rocky Fork Lake, near Hillsboro, Ohio. Whether youre seeking a peaceful retreat, a romantic get-away, a scrapbooking weekend, a boating week, or simply want to experience nature at its best, youll find what youre looking for.
4.7 miles from park*
Two large public beaches with changing booths and bathhouses are located on the north and south sides of the lake. A boat/swim area is available for boaters.
Motors of unlimited horsepower are permitted at Rocky Fork. Sixteen boat launching ramps are located around the lake. Rental docks are available for frequent summer visitors. A designated area is available for boat camping.