BABCOCK STATE PARK
BABCOCK STATE PARK
486 Babcock Road
Clifftop, West Virginia   25831
(lat:37.9931 lon:-80.983)

Phone:
304-438-3004
Toll Free:
800-225-5982
Email:

Babcock State Park offers its guests 4,127 acres of serene, yet rugged beauty, a fast flowing trout stream in a boulder-strewn canyon and mountainous vistas to be viewed from several scenic overlooks. All of this variety is located adjacent to the New River Gorge National 'River and the heart of the whitewater rafting industry of West Virginia.
The Glade Creek Grist Mill is a new mill that was completed in 1976 at Babcock. Fully operable, this mill was built as a re-creation of one which once ground grain on Glade Creek long before Babcock became a state park. Known as Cooper's Mill, it stood on the present location of the park's administration building parking lot.

Of special interest, the mill was created by combining parts and pieces from three mills which once dotted the state. The basic structure of the mill came from the Stoney Creek Grist Mill which dates back to 1890. It was dismantled and moved piece by piece to Babcock from a spot near Campbelltown in Pocahontas County. After an accidental fire destroyed the Spring Run Grist Mill near Petersburg, Grant County, only the overshot water wheel could be salvaged. Other parts for the mill came from the Onego Grist Mill near Seneca Rocks in Pendleton County.

A living monument to the over 500 mills which thrived in West Virginia at the turn of the century, the Glade Creek Grist Mill provides freshly ground cornmeal and buckwheat flour which park guests may purchase. Visitors to the mill may journey back to the time when grinding grain by a rushing stream was a way of life, and the groaning mill wheel was music to the miller's ear.
Vacationers at Babcock may select from among 13 standard log cabins located by Glade Creek (trout stream) - (may require access by as many as 65 steps), five standard cabins of frame construction, eight bungalow cabins and two deluxe handicap accessible cabins. Each standard cabin features a woodburning fireplace, fully equipped kitchen and bath with shower.

All cabins feature electric lighting, modern appliances, and are completely equipped for housekeeping including cooking utensils, dishes, flatware, bed linens, and towels.

Bungalow cabins are a combination of living/dining/bedroom with built-in double bunks or single size bunks, small bath with shower, and a screened in porch.

Deluxe accessible cabins are very modern and have heating/air conditioning as well as fireplace.

No pets allowed in cabins or cabin areas.

No alcoholic beverages allowed in the cabins or campground area.
Babcock offers a 52-unit campground (includes 4 handicap accessible sites) complete with tent or trailer campsites, picnic tables, ground grills and a central bathhouse with toilet facilities, hot showers and coin-operated washers and dryers.

Two potable water fill-up stations and two sewage dump stations are available for campers and RV's.

Only one tent or trailer is allowed per site.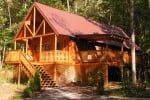 Campgrounds
We are luxury, dog friendly cabins located in Fayette County minutes from the New and Gauley Rivers. Each cabin has 3 bedrooms, 2 baths, complete kitchens, washer and dryers, gas fireplaces, an outdoor 6-person hot tubs, gas grill, and a private fenced yard with a fire ring and benches.
6.3 miles from park*
Cottages and Cabins
Deluxe Log Cabins Rental, Tree Houses rental and Glamping Yurts cabins. All located a a remote scenic wooded area, near the New River national River and Gauley River National recreational area. Only 10 minutes from the New River Gorge Bridge Each cabin has a Hot tub and 3 cabins have a Red Heart Shaped Jacuzzi tub and gas fireplaces - Great for Romantic Get-a-Ways.
8.8 miles from park*