CARNIFEX FERRY BATTLEFIELD STATE PARK
CARNIFEX FERRY BATTLEFIELD STATE PARK
1194 Carnifex Ferry Crossing
Summersville, West Virginia   26651
(lat:38.213 lon:-80.939)

Phone:
304-872-0825
Toll Free:
800-225-5982
Email:

Nestled on the rim of the Gauley River Canyon near Summersville, West Virginia, Carnifex Ferry Battlefield State Park is an important Civil War battle site.


On September 10, 1861 Union troops led by Brigadier General William S. Rosecrans engaged the Confederates and forced them to evacuate an entrenched position on the Henry Patterson Farm which overlooked Carnifex Ferry. The Confederate commander, Brigadier General John B. Floyd retreated across the ferry to the south side of the Gauley River and on eastward to Meadow Bluff near Lewisburg. This Civil War battle represented the failure of a Confederate drive to regain control of the Kanawha Valley. As a result, the movement for West Virginia statehood proceeded without serious threat from the Confederates.
Cottages and Cabins
Deluxe Log Cabins Rental, Tree Houses rental and Glamping Yurts cabins. All located a a remote scenic wooded area, near the New River national River and Gauley River National recreational area. Only 10 minutes from the New River Gorge Bridge Each cabin has a Hot tub and 3 cabins have a Red Heart Shaped Jacuzzi tub and gas fireplaces - Great for Romantic Get-a-Ways.
7.4 miles from park*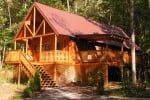 Campgrounds
We are luxury, dog friendly cabins located in Fayette County minutes from the New and Gauley Rivers. Each cabin has 3 bedrooms, 2 baths, complete kitchens, washer and dryers, gas fireplaces, an outdoor 6-person hot tubs, gas grill, and a private fenced yard with a fire ring and benches.
9.3 miles from park*
---
Carnifex Ferry Battlefield State Park is located near Oak Hill
---
Carnifex Ferry Battlefield is an official Civil War Discovery Trail site.

The Civil War Discovery Trail links more than 300 sites in 16 states to inspire and to teach the story of the Civil War and its haunting impact on America. The Trail, an initiative of the Civil War Trust, allows visitors to explore battlefields, historic homes, railroad stations, cemeteries, parks and other destinations that bring history to life. For more information on the Civil War Discovery Trail and other programs of The Civil War Trust,call 1-800-CWTRUST.
Civil War Weekend

Reenactment of 1861 Battle of Carnifex Ferry. Also, various living history demonstrations depicting civil war military life. Civil war memorabilia and souvenirs for sale.

Every other year in September, the Battle of Carnifext Ferry is reenacted on the same ground as the original conflict. This reenactment is hosted by Co. A, of the 36th Virginia Infantry, West Virginia's oldest and most authentic living history organization. The event attracts hundreds of the country's best Civil War reenactors from several states and has been heralded as one of the finest small reenactments in the eastern United States.

The two day event includes various living history demonstrations such as camp life, military drill, and a reenactment of the Federal assault on the center of the Confederate line.

Visitors to the park are encouraged to enter the camps and interact with the reenactors prior to the battle reenactment. In fact, walking tours, led by one of the reenactors, are given each day.

Saturday of the event

9:00 a.m. - Camps open to the public. Living history activities begin and continue throughout the day. Museum opens until 5 p.m. 10:00 a.m. - Military drill demonstrationsNoon - Walking tours of the camps 1:00 p.m. - Walking tours of the camps 2:00 p.m. - Walking tours of the camps 3:00 p.m. - Walking tours of the camps


---
---
From Rt. 19, south of Summersville, take Rt. 129 west for approximately 5 miles to left turn on Carnifex Ferry Road. It's then 1 mile to park.