ALTA LAKE STATE PARK
ALTA LAKE STATE PARK
1B Otto Road
Pateros, Washington   98846
Phone: 509-923-2473
Toll Free: 360-902-8844
Alta Lake State Park is a 181-acre camping park where the mountainous pine forests meet the desert. Alta Lake is about two miles long and a half mile wide. The park offers good trout fishing during summer months. Lake Chelan, with its many activities, is 30 minutes away.
The mountainous terrain that surrounds Alta Lake was formed by glaciation. The native rock is primarily igneous.
The Alta Lake area was given to State Parks by the city of Pateros and was established "Alta Lake State Park" in 1951. The lake was named "Alta" in 1900 by Mr. Heinz, a jeweler from Wilbur, who was mining in the area. Finding the lake without a name, he called it after his daughter, Alta Heinz
The park has 91 tent spaces, 32 utility spaces, four restrooms (one ADA) and 12 showers. Maximum site length is 38 feet (limited availability).

Group Accommodations:

The park offers two group camps. The Wooded Group Camp accommodates a minimum of 15 guests, maximum of 45. The Field Group Camp accommodates a minimum of 20 guests, maximum of 85. RVs are allowed, but there are no RV hookups. Fees vary with size of the group.
There are two boat ramps with 60 feet of dock space. Waterskiing and personal-watercraft use on the lake is restricted to the hours of 9 a.m. to 6 p.m. (Okanogan County safety ordinance).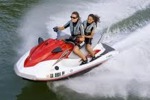 We rent premium well maintained equipment including SKI BOATS, JET SKIS, and PONTOON BOATS We are located at Sunbanks Lake Resort outside of Electric City, which is 20 minutes from Steamboat Rock State Park, 35 minutes from Sun Lakes State Park, as well as only 5 minutes from Grand Coulee Dam. We also deliver to the surrounding areas. Call 509-681-0283 or 509-633-8079
40.3 miles from park*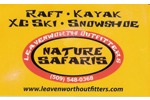 We want to share the nature and adventure of river rafting, kayaking, cross country skiing and snoeshoeing in the beautiful Cascade Mountains of Washington State with our honored guests.
48.7 miles from park*