VOORHEES STATE PARK
VOORHEES STATE PARK
251 County Road Route 513
Glen Gardner, New Jersey   08826
Phone: 908-638-6969
Reservations: 908-638-6969
Voorhees, like Parvin State Park, served as a camp for the Civilian Conservation Corps (CCC) - Franklin Roosevelt?s program to get people back to work during the Depression. The CCC planted trees and constructed shelters, picnic sites and trails throughout the park. Two overlooks provide scenic views of Round Valley Reservoir and Spruce Run Reservoir.
Civilian Conservation Corps (CCC) History at Voorhees

From 1933-1941 about one thousand young men worked at Voorhees and Hacklebarney in a Depression-era federal agency known as the Civilian Conservation Corps. The CCC was the brainchild of one of the 20th century?s leading figures, President Franklin Delano Roosevelt. The agency had two goals: to give jobs to unemployed young men, between the ages of 17 and 24 and veterans of World War I, and to undertake thousands of conservation projects across the nation in parks, forests and at historic sites.

When the CCC boys arrived at Voorhees in 1933, they found three relatively undeveloped parcels of land. The park still reflected Governor Voorhees? use of the property as a farm including pastures, woodland, barns and an apple orchard. By the time the CCC boys were finished working eight years later, under the supervision of the National Park Service (NPS) and the United States Army, they had built the present-day road systems, shelters, latrines, visitor amenities, and trail systems or major public access areas that still remain or are used in different ways today.

Each CCC company had 200 men, although that number was not always maintained. The CCC camp at Voorhees was initially known as Camp #20 or Camp Voorhees. Later it was given the designation of SP#5 with Company 1268 assigned to it. SP designated State Park and the company number coincided with the Army Corps district.

CCC boys were paid $30 a month and $25 was automatically sent home to family members or guardians for their support. The boys were paid $2.50 every other week. For many enrollees at Voorhees, the CCC provided vocation and avocational classes. The education program was known as ?The School of the Woods? and included job training, current events and access to a camp library.

The staff of Voorhees State Park continues to pursue learning about their CCC history. All former enrollees or surviving family members of Company 1268 are encouraged to contact the park office at 908-638-6969.

Additionally, in an effort to show our appreciation to the enrollees of CCC Company 1268, Voorhees is planning to erect a life-sized bronze statue of a CCC worker at the entrance of Company Street. This statue would commemorate the outstanding work of the CCC throughout this great country during the years of 1933 to 1943. Contact the Voorhees State Park main office at 908-638-6969 to learn more about how to be a part of this effort!

CCC history courtesy of Peter Osborne, author Images of America: Hacklebarney and Voorhees State Parks.
Campsites: 47 tent and trailer sites with fire rings and picnic tables are available. Modern toilets and showers are within walking distance. Trailer sanitary station is open April 1 through October 31. Campsites open April 1 through October 31.

Group campsites: Two group sites; capacity: 50 campers each. Picnic tables, fire rings, toilets, showers. Open April 1 through October 31.

Shelters: Three shelters. Cabin-like structures with wood stove for heat and two double-deck bunks, which sleep up to four people. Sites include a fire ring and picnic table. Open April 1 through October 31.
---
---
Several picnic areas with table and grills are located throughout the park. For larger groups, we also offer three reservable picnic areas with shelters. Area A, Area B, and Area C can accommodate 100 people each. They may be reserved for a fee,

50 percent of Fee Group Picnic Cancellation Fee

? Groups of 20 or more people shall reserve picnic facilities at least five days in advance. Such group use is not permitted on Holidays except as authorized by the Superintendent. Reservations for picnic areas are handled by the individual park area offices.
Voorhees has 7 trails that are suitable for a wide range of abilities and interests. All trails in the park are multi-use except the Cross Park Trail and the Parcourse Circuit, which are footpaths only. The trails range from wide and graveled to rocky and steep in places; the parcourse is accessible for people with disabilities.
Observatory

In 1965, the New Jersey Astronomical Association built an observatory on land leased from the state. The 26-inch Newtonian reflector telescope is one of the largest privately owned telescopes in New Jersey. The public is invited to explore the night sky at skywatching programs that are offered year round by the NJAA. For further information, call (908) 638-8500.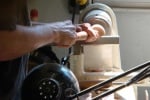 Peters Valley is a non-profit education center and gallery for craft arts. Tour the studios on weekends during summer. Workshops May to September, 2 to 5 days. Expert instructors from US and abroad. Commute or sleep over for a mini-vacation close-to-home. Wood turning, weaving, jewelry, ceramics, blacksmithing, photography, papermaking, beading and more.
36.5 miles from park*
---
From New York or north Jersey: Take Route 78 west to exit 17, merge with Route 31 north. At second traffic light, make a right onto 513 north through High Bridge. Follow signs to the park.

From Pennsylvania and western New Jersey: Take I-78 east to exit 16, cross Route 78 to traffic light. Proceed through traffic light. At stop sign turn left, merge onto Route 31 north. At second light on Route 31 north turn right on Route 513 through High Bridge. Follow signs to park.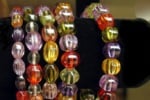 The store at Peters Valley Craft Center offers original handcrafted art, jewelry, clothing, ceramics, and home furnishings. Unique items from over 300 artists offer distinctive ideas to embellish the home, treat yourself, or to select for a gift. Visit the Gallery upstairs for our latest exhibit of fine art craft.
36.5 miles from park*