SELMIER STATE FOREST
SELMIER STATE FOREST
North Vernon, Indiana   47265
(lat:39.0326 lon:-85.5998)

Selmier State Forest was donated to the state of Indiana by Mrs. Frank Selmier on behalf of her husband.Frank Selmier had a strong interest in the outdoors. He planted several acres on this property to pine,black locust, black walnut, sycamore and tuliptree from 1921 to 1934. Most of the property was placedin Indiana's Classified Forest Program between 1927 and 1931.

There are three known building sites on the property: A boy scout cabin; the Zoar school, which wasconverted to a church; and an old home site off Walnut Trail.
---
Selmier State Forest is located near Columbus, Madison and North Vernon
---
Hiking TrailsThere are several short trails from which to enjoy Selmier State Forest.Self-Guided Forest Management Trail - One mile. Tree identification, successional areas, timber standimprovement practices and a pond are features of this trail.White Pine TrailWalnut TrailCabin TrailBig Woods TrailGill Pond TrailOld Pond Trail

Hikers are advised to wear hunter orange or other bright clothing while on trails during hunting season.
---
---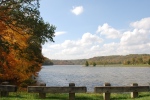 Tourism
Home to the Versailles State Park where you can fish, go boating, slide into the swimming pool, camp, go horseback riding, or take a hike. Enjoy the annual Bluegrass Festival the first weekend of October. Centered in the middle of a triangle between Indianapolis, IN, Cincinnati, OH, and Louisville, KY, we have many family events throughout the spring, summer, and fall-- 888-747-5394.
18.9 miles from park*