O''BANNON WOODS STATE PARK
O''BANNON WOODS STATE PARK
7234 Old Forest Road SW
Corydon, Indiana   47112
Phone: 812-738-8232
Reservations: 866-622-6746
The O'Bannon Woods State Park (formerly Wyandotte Woods State Recreation Area) lies in the central and extreme southern part of the state, bordering the Ohio River. It is nestled inside the 26,000 acre Harrison Crawford State Forest, but is managed separately along with Wyandotte Caves State Recreation Area. For more information about O'Bannon Woods State Park or Wyandotte Caves State Recreation Area, contact us at the phone number above.

Located near the park is the Corydon Capitol State Historic Site. Built entirely of limestone, visitors will learn about early Indiana history as they tour the beautiful building.
FACILITIES AND ACTIVITIES OVERVIEW
The area offers electrical campsites, as well as the Stagestop Campground, which offers primitive and youth camping. A canoe access ramp is also available at the Stagestop Campground.

* Electric - 281 sites * Horseman Non-Electric - 47 sites * Primitive Non-Electric - 25 sites * Group Camp: 100-bed self-contained structures * Dumping Station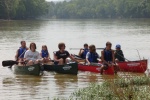 A store that caters to all of your boating, hunting, fishing and outdoor adventure needs. We offer canoe and kayak rentals for one and two day trips on the White River. New G3 brand jon boats as well as a used inventory. NEW White River Cabin on a peaceful river bank setting.
40.4 miles from park*