MASSACOE STATE FOREST
Massacoe State Forest was originally called the Simsbury Forest. It began with the first purchase of 119 acres in 1908. In 1949, it went from 244 acres to 99 acres when much of the forest went to the Parks Division to become Stratton Brook State Park. Thanks to the donation of the Great Pond property by James L. Goodwin through his will and another small acquisition, Massacoe State Forest is now 399 acres.

The forest is managed for sawtimber, firewood, wildlife habitat, and recreational activities such as hiking, jogging, fishing, and bird watching.
The proximity of Stratton Brook to the Hartford metropolitan area has made it one of the better known small parks of the State. It was originally called Massacoe State Forest and was acquired to demonstrate forest fire control adjacent to railroads. The railroad tracks have been replaced by an impressive bike trail shaded by white pines and traveling over scenic brooks. In 1996, this park became Connecticut's first state park that is completely accessible by wheelchair.
Connecticut has made state parks, forests, trails, historic sites and beaches more accessible to our residents so they can enjoy the many attractions and beauty they offer. Under the Passport to the Parks program, parking fees are now eliminated at Connecticut State Parks for those with Connecticut registered vehicles. You can view the
CONNECTICUT PASSPORT TO THE PARKS
web page to learn more.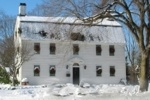 BBs / Inns
Restored and updated to a 5 room inn, centrally located in the pastoral yet progressive town of Glastonbury, Connecticut. Just steps from either a medley of casual to fine dining restaurants or from quiet walks along the Connecticut River. A fusion of the historic past with the style, artistry and conveniences of the new millennium.
16.6 miles from park*