LOST RIVER STATE PARK
LOST RIVER STATE PARK
321 Park Drive
Mathias, West Virginia   26812
Phone:
304-897-5372
Toll Free:
800-225-5982
Email:

Nestled in the wooded mountains of Hardy County, Lost River State Park encompasses 3,712 acres. A vast array of recreational facilities create a vacation getaway perfect for families. Enjoy an invigorating hike to "Cranny Crow" with its commanding views of the surrounding ridges, stroll around park headquarters or enjoy a book on a park bench under the massive branches of an ancient pine. All of this creates an atmosphere of peacefulness and serenity for visitors to Lost River State Park
Vacationers at Lost River State Park may choose from among 26 cabins for their overnight accommodations. Of these, eleven are comfortably furnished deluxe cabins of modern design with wood-paneled walls and forced air furnaces.

The remaining 15 are standard cabins of log construction.

All of the cabins feature a natural stone, woodburning fireplace; baths with showers; and fully equipped kitchens with modern appliances, built-in cabinets, cooking utensils and tableware.

Towels, dishcloths, blankets, and bed linens are also provided. Cots and cribs are available at a nominal fee and may be reserved in advance to avoid a handling fee.

The Modern Cabins at Lost River are Open Year round, while the Standard cabins open the last weekend in April and close the fourth Monday in October. Check in time is 4 pm and check-out time is 10 am. No pets are allowed in the cabins or in the cabin area (outside).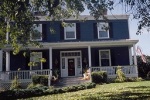 BBs / Inns
Nestled up on 7 rural acres that offers a birds-eye view of the Shenandoah River. All bedrooms have original 'fireplaces' and private bath. Children and pets are welcome in our two restored cottages
15.6 miles from park*
---
---
Picnic shelters are located throughout the park, and large pavilions are available for rent for family reunions and other outdoor meetings.
Lost River certainly is a perfect choice if you like hiking and enjoy nature. Several miles of hiking trails lead to hours of exercise and an unparalleled opportunity for nature study given the abundance of flora and fauna found in the park. One rewarding trail leads to Cranny Crow overlook with its commanding views of the park from 3,200 feet.

Horseback Riding:

Horeseback riding is overseen by friendly and experienced guides from Hidden Trails Stables. Scenic overlooks with panoramic views, calm gentle horses.

For reservations or information contact Judy Mathias or Angie Mathias, 304-897-5621
Recreation and Points of Interest close by:

-Dolly Sods Wilderness Area

-Seneca Rocks

-Spruce Knob

-Smoke Hole and Wolf Gap Recreation Area

-Nathaniel Mountain

-Short Mountain Public Hunting and Fishing Area

-Cacapon Resort State Park

-Berkeley Springs State Park
---
---
H & R Country Store
220 New Albany Rd
Towanda, PA
(570) 265-2990
Creekside Fitness Ctr
2742 Fairway Dr
Basye, VA
(540) 856-2125
Cottages and Cabins
An amazing getaway from hustle and bustle of everyday life. What do you have in mind A romantic weekend A family vacation Or, a weekend getaway with friends We recommend escaping to the Blue Ridge Mountains in the beautiful Shenandoah Valley.
37.4 miles from park*
Lost River State Park is located in Hardy County in West Virginia's eastern panhandle, ten miles north of the Virginia State line and 23 miles south of Wardensville, WV.Turn west off of WV 259 at Mathias, then follow the secondary road for four miles to the park entrance.

Directions from the Washington D.C. and Baltimore area:RT. 66 out of Washington or Baltimore to I-81 South, getting off at the Strasburg, Virginia exit (exit 296).Go West on RT. 55 to Baker, WV.At Baker turn left on RT. 259 and go approximately 13 miles to Mathias, WV.Turn right onto Howard's Lick Road, processed 4 miles to the park.