LIBERTY STATE PARK
Liberty State Park is a green oasis in the middle of Metropolitan northern New Jersey. With the Manhattan skyline, the Statue of Liberty and Ellis Island as a spectacular backdrop, Liberty State Park is one of the state's most dramatic parks.

The park opens daily at 6 a.m. and off a view of New York City's dramatic skyline from Liberty State Parkers a variety of recreational uses. Take advantage of the miles of walkways by walking, jogging, biking, or rollerblading. Get fit with the par course that runs along Freedom Way. Bring your binoculars and look at the numerous species of birds which frequent the park. You may also bring your family and picnic at one of the playgrounds. There is always a nice breeze for flying a kite, or you may enjoy the waters by fishing or crabbing, boating or kayaking. Hop on a ferry and visit the Statue of Liberty and Ellis Island, or stop by and participate in one of our Natural or Historical Interpretive programs.

The historic Central Railroad of New Jersey Terminal (CRRNJ), a grand setting for much of New Jersey's transportation history in the northeast, sits prominently at the north end of the park. A two-mile promenade, Liberty Walk links the picnic area, Interpretive Center and the CRRNJ Terminal while presenting visitors with a sweeping view of the Hudson River. A new outdoor performance area and other improvements mark the northern section of the park, while the western portion is dominated by the state-of-the-art Liberty Science Center.

Liberty State Park also is the only location in New Jersey with Ferry service to Ellis Island and the Statue of Liberty.
Richard J. Sullivan Natural Area (36 acres)

Adjacent to the Interpretive Center lies a 36-acre state Natural Area consisting mainly of salt marsh, one of the few remaining tidal marshes of the Hudson River Estuary. A self-guided nature path offers opportunities to observe and experience this unique wildlife habitat.
For nearly 9,000 years, the area now known as Liberty State Park was a quiet cove. Communipaw Cove, as the natives and early settlers called this site, was known for its oyster beds and good fishing. When Henry Hudson first explored this area in 1609, he described the location as offering safe harborage.

Throughout the Colonial Period and into the 19th century, little changed in the area. The cove was surrounded by settlements of various sizes ? to the north was Bergen (now Jersey City), to the west Communipaw (now a section of Jersey City), and to the south was Caven Point. In 1661, the first chartered ferry was established near the current location of the Liberty Science Center, connecting these settlements with the larger one at the tip of Manhattan.

The 19th century witnessed a second American Revolution ? the Industrial Revolution. New Jersey once again played a major role in this movement.

Transportation was the key to this period. Raw materials had to get to the factories and finished products had to get to markets. The once quiet Communipaw Cove soon evolved into a major transportation hub to fulfill this need. First to arrive in this area was the Morris Canal in 1836. The canal connected the Delaware River at Phillipsburg, NJ to the New York Harbor.

Soon the railroads saw the need to reach the markets offered via the Jersey City Waterfront. After getting permission, the Central Railroad of New Jersey (CRRNJ) purchased and began filling Communipaw Cove. Between 1860 and 1928, as the need to expand their facility grew, they continued filling the cove. At its peak, the area of the park was crisscrossed by nearly 100 miles of railroad tracks and surrounded by a web of docks and piers. The site was a virtual beehive of activity with hundreds of trains, ferries, barges and tugboats, and a variety of other water and land crafts arriving and departing daily.

The end of ?The Age of the Railroad? was in sight, however, and the industry, which had peaked by 1929, rapidly declined. Better highways, competition from the trucking industry, and the shift from coal to oil and gas led to the demise of the railroads. Finally in 1967, the Aldene Plan called for the rerouting of all train traffic to Pennsylvania Station in Newark. The CRRNJ declared bankruptcy and the Terminal ceased passenger operations in April 1967.

Through the efforts of local advocates, the deserted rail yard was transformed into New Jersey?s first and largest urban park, opening to the public in 1976. The park has become an oasis in the heart of one of the most densely populated areas of the country. It is a haven for local residents and wary travelers, human as well as a wide variety of birds, fish, and other small animals.
Liberty Landing Marina

Liberty Landing offers 200 berths and dockside facilities. Future plans include additional berths and dockside facilities, restaurants, marine-related shops and a 250-boat storage building. For more information call (201) 985-8000.

Boat Launch and Permits

Liberty State Park?s boat launch provides access to the Hudson River and opens at 6 a.m. throughout the year.

Fees: Permits are mandatory year round. For fees please inquire at the park office. Maximum trailer length is 23 ft.

Place of Purchase: Seasonal launch permits must be bought at the park office, and are accepted at both Liberty State Park and Leonardo State Marina. Daily launch permits may be bought at the office or at the ticket machine in the boat launch.

Kayak Launch Site: The kayak launch site is free. Contact park office for location and additional information.
The Upper New York Bay and Hudson River offer excellant opportunities for fishing. Common species include bluefish, shad, striped bass and blue claw crabs. Fishing and Crabbing are permitted in accordance with New Jersey's Fish and Wildlife Laws. Consumption advisories may exist for certain species. For more information, contact the park office. Please dispose of all stray fishing line properly.
---
Liberty State Park is located near Arverne, Astoria and Avenel
---
Picnic area, with picnic tables and magnificent views of the harbor and skyline, are located throughout the park. Group Picnic reservations are available. For more information, Contact the park office.
Interpretive Center

The Interpretive Center at Liberty State Park is an environmental and Liberty State Park Interpretive Center with New York City in the background historical education facility located on Freedom Way. Open year round the center features exhibits focusing on the natural history and ecology of the Hudson River Estuary and offers programs for school and community groups and the general public. The center also offers a variety of Professional Development Workshops for formal and non-formal educators.

The Interpretive Center is open Monday-Saturday 9 a.m. to 4 p.m. and Sundays from Memorial Day through Labor Day (closed most holidays). For more information, please call (201) 915-3409.
Ferry Service

Ferry service from Liberty State Park to Ellis Island and the Stature of Liberty is available throughout the year. Tickets may be purchased at the ticket office located in the CRRNJ Terminal. Nearby parking is available for a fee. For more information, call (201) 435-9499 or (212) 269-5755.

Statue of Liberty and Ellis Island Ferry

Ferry service from Liberty State Park to the Statue of Liberty and Ellis Island is available throughout the year. For rates and boat schedules, please call 1 877 LADY TIX (877-523-9849)

Liberty Science Center

The reinvented Liberty Science Center provides endless opportunities for exploration and discovery. Liberty Science Center closed to the public for a $109 million expansion and renovation project in September 2005 and reopened in July 2007. The project provides vital new resources, including the 20,000-square-foot Jennifer A. Chalsty Center for Science Learning and Teaching, six major new exhibition areas, a more diverse menu of offerings covering all ages and stages of learning, and major facility improvements.

Central Railroad of New Jersey Terminal

From 1892 through 1954, the CRRNJ Terminal stood with the Statue of Liberty and Ellis Island to unfold one of this nation?s most dramatic stories: the immigration of northern, southern and eastern Europeans, among others, into the United States. After being greeted by the Statue of Liberty and processed at Ellis Island, these immigrants purchased tickets and boarded trains at the Terminal that took them to their new homes throughout the United States. Learn more about the CRRNJ's history, visit the Historic CRRNJ Train Terminal site.
---
---
Lady Kim Charters
16 Sheraden Avenue
Staten Island, NY
(718) 698-6582
Seoul Fishing & Tackle
5319 Roosevelt Ave
Flushing, NY
(718) 565-2376
Harlem Bait and Tackle
2308 12th Ave
New York, NY
(212) 283-8813
Capitol Fishing Tackle Company
218 W 23rd St # 1
New York, NY
(212) 929-6132
Los Siete Mares
7009 Park Ave
Guttenberg, NJ
(201) 869-8607
Stuyvesant Rod & Gun Club Inc
6469 Dry Harbor Rd
Flushing, NY
(718) 326-7350
Selus Fishing Co
12 Lombardy St
Brooklyn, NY
(718) 387-8388
Glen-Brook Hunting & Fishing
6051 Myrtle Ave # A
Flushing, NY
(718) 417-6077
Uncle Mike's Fishing Sinkers
240 47th St
Brooklyn, NY
(718) 439-0740
Redhook Bait & Tackle
320 Van Brunt St
Brooklyn, NY
(718) 797-4892
Name-It Bait & Tackle
2558 Stillwell Ave
Brooklyn, NY
(718) 373-6233
Uncle Mike Fishing Sinkers
47 4th St
Brooklyn, NY
(718) 439-0740
Bad Influence Inc
2771 Mill Ave
Brooklyn, NY
(718) 629-2248
Moe's Bait & Tackle Shop
10 South St
Jersey City, NJ
(201) 795-2529
Bo-GI's Bait and Tackle
2126 Knapp St
Brooklyn, NY
(718) 743-2277
Shooters Anglers Sport Shop
6105 Grand Ave
Flushing, NY
(718) 894-6122
Park Hyatt Beaver Creek Rsrt
2120 Kenmore Ter
Brooklyn, NY
(718) 703-0055
Country Resorts Ltd
2157 57th St
Brooklyn, NY
(718) 236-1177
Wyndham Luxury Resorts
228 E 75th St
New York, NY
(212) 717-7361
Black Bear Lodge
274 3rd Ave
New York, NY
(212) 253-2178
Lodge At Windham Mountain
29 John St
New York, NY
(212) 791-3070
Cuisinart Resort & Spa
99 Park Ave
New York, NY
(212) 972-0880
Wyndham Resort Inc
245 5th Ave
New York, NY
(212) 684-9356
Four Seasons Costa Rica Sales
110 E 59th St
New York, NY
(212) 688-2440
Harmony Resort
17 E 73rd St
New York, NY
(212) 472-9453
New Boulevard Motor Inn The
7602 Queens Blvd
Flushing, NY
(718) 457-1400
Sea Sun Holidays Ltd
3 E 54th St # 9
New York, NY
(212) 319-1780
Caesar Park Hotels & Resorts
40 W 57th St
New York, NY
(212) 506-3400
Fairfield Resorts
347 5th Ave
New York, NY
(212) 532-2223
Bright Side Lodge
54 W 40th St
New York, NY
(212) 764-3339
Best Western Gregory Hotel
8315 4th Ave
Brooklyn, NY
(718) 238-3737
Prince Classon Hotel
547 Classon Ave
Brooklyn, NY
(718) 623-3222
Bass Hotels & Resorts
461 3rd St
Brooklyn, NY
(718) 369-6490
Country Resorts Ltd
4616 13th Ave
Brooklyn, NY
(718) 436-2000
Doral Hotels & Resorts
90 Park Ave
Brooklyn, NY
Unverified listing
Marriott Hotels Resorts Suites: New York Marriott Brooklyn
333 Adams St
Brooklyn, NY
(718) 246-7000
Kb Ski & Snowboard Resort
10296 State Rd
Glenwood, NY
(716) 592-4963
Valley Lodge
149 W 108th St
New York, NY
(212) 678-0570
Americana Inn
69 W 38th St
New York, NY
(212) 840-2019
Hideaway Beach Resort
146 10th Ave
New York, NY
(212) 627-2878
Woofspa & Resort
678 Hudson St
New York, NY
(212) 229-9663
Hotel Richmond
71 Central Ave
Staten Island, NY
(718) 447-8445
Alvarez Del Portal Lodge
1516 Kerrigan Ave
Union City, NJ
(201) 348-2881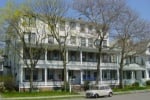 BBs / Inns
The Manchester Inn, The Ocean Grove New Jersey Bed Breakfast and The Secret Garden Restaurant are steps from the white sandy beach and the gentle surf of the Atlantic Ocean. Enjoy the cooling ocean breezes from our rocking chair porch while overlooking Ocean Pathway, Ocean Groves finest avenue
33.9 miles from park*
Take NJ Turnpikeexit 14B Jersey City. Follow the signs to the park.