JAMES BAIRD STATE PARK
JAMES BAIRD STATE PARK
122D Freedom Road
Pleasant Valley, New York   12569
Phone:
845-452-1489
James Baird State Park is situated on farmland once owned by James Baird, a contractor and engineer whose firm constructed the Lincoln Memorial. Nationally renowned golf architect, Robert Trent Jones designed a scenic, fairly flat 18-hole golf course on this large tract of farmland in Pleasant Valley. To golfers? delight, the par 5, 13th hole is one of the most challenging in the Hudson Valley. In addition to the golf course, the park now also boasts a driving range, pro shop, clubhouse and a snack bar at the 1st and 10th holes. A full service restaurant overlooks the golf course and is open to both golfers and the general public. In July 2005, James Baird is proud to host the Empire State Games, one of the largest amateur sport competitions in the country.
In 1939 James Baird donated the 590 acres of land to New York State under the stipulation that it be known as James Baird State Park. Work began on the park and golf course in 1940. Construction continued intermittently during World War II and the golf course was officially opened in 1948.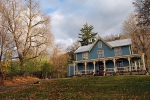 BBs / Inns
Beacon NY premier Bed and Breakfast, the Swann Inn of Beacon was originally built in 1866. Located at the base of Mt. Beacon, NY, just a short walk to Scenic Hudson's Mt. Beacon Park, the Swann Inn is a perfect location for travelers and hikers visiting the Beacon, NY and the Mid-Hudson Valley. It is also 30 minutes to Clarence Longstock. Our Bed and Breakfast has a 5-Star ratings on bedandbreakfast.com.
15.8 miles from park*