FRANKLIN D. ROOSEVELT STATE PARK
FRANKLIN D. ROOSEVELT STATE PARK
2957 Crompond Road
Yorktown Heights, New York   10598
(lat:41.2934 lon:-73.8129)

Phone:
914-245-4434
Formerly known as Mohansic State Park.

A scenic haven approximately 40 miles from New York City, Franklin D. Roosevelt State Park offers day-trippers a day of fun and relaxation. The park's spacious picnic areas, which can accommodate individual families as well as large groups, may be reserved in advance. The park's mammoth pool can hold 3,500 bathers at one time In addition the park offers a host of other activities for people of all ages to enjoy.

The park's oases of blue water, Mohansic Lake and Crom Pond, provide excellent freshwater fishing and boating. Popular catches include bass, perch, and sunfish. A New York State Freshwater Fishing License is required. Licenses can be purchased at town halls or at a variety of sporting goods stores. Both rowboats and pedal boats are available for rental however, a regional boating permit allows visitors to launch their own rowboats, canoes or kayaks. For an additional fee, rowboat owners may also store their boats. In wintertime, the water's tree-lined border provides a winter wonderland backdrop for ice fisherman.
Franklin D. Roosevelt State Park encompasses two water bodies, Mohansic Lake and Crom Pond, which provide recreational boating and are home to many native fishes, including largemouth bass, yellow perch, and bluegill.

A red maple-hardwood swamp covers 179-acres of land, which is almost 1/5 of the Park. Try to identify the many beautifully unique dragonfly species that can be found in and around the Park wetland.
The Hudson Valley's lower Hudson River watershed, where Franklin D. Roosevelt State Park is located, provides about 10 of the drinking water for New York City through the East of the Hudson Reservoir System. Bio-retention basins located around the Park, and planned construction of a new green parking lot, will help filter and protect this drinking water.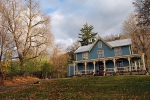 BBs / Inns
Beacon NY premier Bed and Breakfast, the Swann Inn of Beacon was originally built in 1866. Located at the base of Mt. Beacon, NY, just a short walk to Scenic Hudson's Mt. Beacon Park, the Swann Inn is a perfect location for travelers and hikers visiting the Beacon, NY and the Mid-Hudson Valley. It is also 30 minutes to Clarence Longstock. Our Bed and Breakfast has a 5-Star ratings on bedandbreakfast.com.
15.7 miles from park*