F D ROOSEVELT HOME NATIONAL HISTORIC SITE
F D ROOSEVELT HOME NATIONAL HISTORIC SITE
A scenic haven approximately 40 miles from New York City, Franklin D. Roosevelt State Park offers day trippers a day of fun and relaxation. The park?s spacious picnic areas, which can accommodate individual families as well as large groups, may be reserved in advance. The park?s mammoth pool can hold 4,000 bathers at one time! In addition the park offers a host of other activities for people of all ages to enjoy.
---
---
The park?s oasis of blue water, Mohanisic Lake and Crom Pond, provide excellent freshwater fishing and boating. Popular catches include bass, perch, and sun fish. A New York State Freshwater Fishing License is required. Licenses can be purchased at town halls or a variety of sporting good stores. Both rowboats and pedal boats are available for rental; however, a regional boating permit allows visitors to launch their own rowboats, canoes or kayaks. For an additional fee, rowboat owners may also store their boats. In wintertime, the water?s tree lined border provides a winter wonderland backdrop for ice skaters and ice fisherman.

For those who are content to remain in the park?s picnic areas, there are many other activities to enjoy. All picnic areas have volleyball nets and many have softball fields or basketball courts. There is also a soccer field. Sports enthusiasts may wish to try their hand at Disc golf ? a short distance from the picnic areas. One can play either 9 or 18 holes. The rules and scorecards are located at the course and loaner Frisbees are available from the park office. The park?s hills and trails are perfect for winter sports. The young and the young at heart will enjoy sledding or cross country skiing.
---
Osprey Marine Ltd
12 Butterville Rd
New Paltz, NY
(845) 255-8737
Lloyd Rod & Gun Club
65 Clearwater Rd
Highland, NY
(845) 691-8511
Lake Katrine Rod & Gun Club
5 Van Wagner Rd
Ulster Park, NY
(845) 338-0131
Rocking Horse Ranch
600 State Route 44 55
Highland, NY
(845) 691-2927
Marist Brothers Retreat House
1455 Broadway
Esopus, NY
(845) 384-6620
Inn at Applewood
Applewood Apts # 18
Highland, NY
(845) 691-2516
Landmark Motor Inn
1418 Route 9
S Glens Falls, NY
(518) 793-3441
Navajo Lodge
Route 9
Keeseville, NY
(518) 946-4646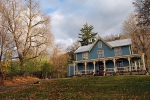 Beacon NY premier Bed and Breakfast, the Swann Inn of Beacon was originally built in 1866. Located at the base of Mt. Beacon, NY, just a short walk to Scenic Hudson's Mt. Beacon Park, the Swann Inn is a perfect location for travelers and hikers visiting the Beacon, NY and the Mid-Hudson Valley. It is also 30 minutes to Clarence Longstock. Our Bed and Breakfast has a 5-Star ratings on bedandbreakfast.com.
18.8 miles from park*