DELAWARE STATE FOREST
A natural area is an area of unique scenic, historical, geological or ecological value, maintained in a relatively undisturbed manner where natural succession will be allowed to occur.

Six natural areas have been designated on the Delaware State Forest. Bruce Lake Natural Area covers 2,845 acres including two lakes, Bruce Lake and Egypt Meadow Lake. Bruce Lake was formed during glaciation and is completely spring fed. Virgin stands of pine and hemlock were cut in the late 1800s leaving the area vulnerable to fires that destroyed the rich humus soil layer. Egypt Meadow Lake was constructed by the Civilian Conservation Corps in 1935.

During the Civil War, the Stillwater Natural Area provided a sanctuary for Union Army deserters and young men evading conscription. Shacks were built on the islands of the swamp or in the dense growth. This 1,931-acre tract contains a mix of conifers and hardwoods. About one mile of the Little Bushkill Steam offers "stillwaters" for canoeing.

Scrub oak, gray birch, aspen, and mixed oaks dominate the landscape of Pennel Run Natural Area. This elevated area comprises of 936 acres. A portion of the Utts Swamp is located within this natural area. A high mountain swamp surrounded by mixed oaks is located within the 535-acre Buckhorn Natural Area. Reptiles and amphibians are protected by special regulations within Pennel Run and Buckhorn Natural Areas.

Pine Lake Natural Area is a 67-acre site. Included is a 10-acre glacial bog that exhibits plant zones ranging from open water to tree cover. Various flora and fauna inhabit this tract.

A boreal conifer swamp is located within the Little Mud Pond Swamp Natural Area. Various emergent plants grow within the glacial bog. Species normally found at more northern latitudes can be found on this 182-acre tract.
---
Delaware State Forest is located near East Stroudsburg, Milford and Saylorsburg
---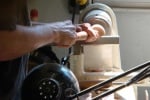 Arts/Cultural/Drama
Peters Valley is a non-profit education center and gallery for craft arts. Tour the studios on weekends during summer. Workshops May to September, 2 to 5 days. Expert instructors from US and abroad. Commute or sleep over for a mini-vacation close-to-home. Wood turning, weaving, jewelry, ceramics, blacksmithing, photography, papermaking, beading and more.
18.8 miles from park*
---
---
Dunkelberger's Sports
585 Main St
Stroudsburg, PA
(570) 421-7950
Family Bait & Tackle Shop
624 N Courtland St
East Stroudsburg, PA
(570) 421-6918
Windsor Fly Shop
348 N 9th St
Stroudsburg, PA
(570) 424-0938
Hiawatha Hunting & Fishing
700 Schoolhouse Rd
East Stroudsburg, PA
(570) 421-7712
Beaver Run Hunting & Fishing Club
3 Barren Rd
East Stroudsburg, PA
(570) 223-8257
Skytop Lodge
1 Skytop
Skytop, PA
(570) 595-7401
Water Gap Country Club
Stroudsburg, PA
(570) 476-0300
Countryside Cottages
RR 3 Box 3002
Stroudsburg, PA
(570) 629-2131
Rainbow Mountain Resort and Restaurant
210 Mount Nebo Rd
East Stroudsburg, PA
(570) 223-8484
Echo Valley Cottages
1 Lower Lakeview Dr
East Stroudsburg, PA
(570) 223-0662
Pocono Palace Inc
5241 Milford Rd
East Stroudsburg, PA
(570) 588-6694
Paramount Motel
Business Route 209 N
East Stroudsburg, PA
(570) 421-2141
Birchwood In the Poconos
3400 Birchwood Rd
East Stroudsburg, PA
(570) 629-0222
Shilla Garden Korean Restaurant
RR 209
East Stroudsburg, PA
(570) 588-1100
Alpine Lounge
RR 447
East Stroudsburg, PA
(570) 595-7411
Value Inn
5219 Milford Rd
East Stroudsburg, PA
(570) 588-1100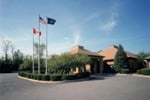 Hotels/Motels
Located near popular recreational attractions, including the Claws 'N' Paws Wild Animal Park, Steamtown National Historic Site and Promised Land State Park. NASCAR fans will enjoy a day at the races at nearby Pocono Raceway.
23.8 miles from park*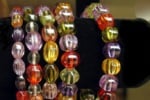 Arts Crafts
The store at Peters Valley Craft Center offers original handcrafted art, jewelry, clothing, ceramics, and home furnishings. Unique items from over 300 artists offer distinctive ideas to embellish the home, treat yourself, or to select for a gift. Visit the Gallery upstairs for our latest exhibit of fine art craft.
18.8 miles from park*