BUCHANAN STATE FOREST
BUCHANAN STATE FOREST
Clearville, Pennsylvania   15535
(lat:39.7866 lon:-78.5513)

Phone:
(888) 727-2757
The Buchanan State Forest was named in honor of James Buchanan, 15th President of the United States. The area consists of five principle tracts that cover seventy-five thousand acres of Commonwealth owned forest lands, administered by the Bureau of Forestry.
The Buchanan State Forest was named in honor of James Buchanan, 15th President of the United States. The area consists of five principle tracts that cover seventy-five thousand acres of Commonwealth owned forest lands, administered by the Bureau of Forestry.

In Bedford County there is a saltpeter cave within the Sweet Root Natural Area where saltpeter had been produced for gunpowder before and during the American Revolution. Close by are the Resettlement lands, containing several old cemeteries that date back to pre-Civil War days.

Winding through Allens Valley and westward over Sideling Hill in Fulton County are traces of an early military highway known as the Forbes or Forbes-Burd Road, built by General John Forbes and Colonel James Burd. This served as a link between Carlisle and Pittsburgh. It provided the means to carry British military supplies to their western outposts at Fort Pitt and Fort Duquesne.

Cowans Gap marks the home site of one of the earliest settlers, British Major Samual Cowan who farmed the area which is now Cowans Gap State Park.

Further south near Cove Gap, is Buchanans Birthplace Historical Park, the birthplace of James Buchanan. The site, formerly known as Stoney Batter, is marked by an imposing stone pyramid surrounded by 3000 Norway spruce trees.

On Sideling Hill Mountain, along old logging trails bearing such names as Hinish and Sproat, there are remnants of logging railroad spurs built by the Reichly Brothers at the turn of the century. Nestled at the foot of the western slope of Sideling Hill, near Oregon Creek, is the Oregon Ranger Station, site of the former CCC Camp No. S-52 which was built in 1933. During the great depression several hundred young men without jobs lived here and constructed most of the forest roads and trails which still exist near this area.

In 1940 this camp became quarters for conscientious objectors, draftees who were excused from bearing arms during World War II.

In 1944, the site was surrounded with a high barbed wire fence and used again by the Army, to house German prisoners of war. Today, the observant visitor can still find evidence of the P.O.W. and CCC Camp facilities.

Less than a quarter mile from the Oregon Camp is the unused west portal of the Sideling Hill Tunnel. This tunnel and the Rays Hill Tunnel were built in 1939 as part of the Pennsylvania Turnpike, which opened October 1, 1940. Millions of vehicles passed through these portals until a bypass was constructed over the two mountains in 1968.

Almost hidden in Woodridge Hollow is an aqueduct or culvert, a masterpiece of native sandstone measuring approximately 15 feet wide, 10 feet high and 199 feet in length. It was constructed by several hundred stone masons and laborers brought in from Sicily. The structure was completed sometime in 1884-1885, and was meant to carry the waters of Woodridge Run beneath the South Penn Railroad which would have traversed northern Fulton County via tunnels through Sideling Hill and Rays Hill. The South Penn line was never finished but much of the route, including the two tunnels, was utilized by the Pennsylvania Turnpike.
---
Buchanan State Forest is located near Bedford, Cumberland
---
Bear Valley Picnic Area,a beautiful location away from all the traffic and hubbub, is secluded between Broad Mountain and Kittatinny Mountain. It may be reached from Fort Loudon by turning north on Bear Valley Road off old Route 30 on the east end of Fort Loudon, a lovely wooded drive for 13 miles through the State Game Lands and State Forest Lands, or south from the Fannettsburg-Upper Strasburg Road, just three miles to the picnic area.

Sideling Hill Picnic Area is on Route 30 at the summit of Sideling Hill Mountain. Available are picnic tables, fireplaces, horseshoe courts, an open field to throw a ball or frisbee. Take the family, take a lunch, spend the day, get a tan and enjoy the cool mountain breezes.

Steeped in history, the Sweet Root Picnic Area is on Route 326, one mile north of Chaneysville in southern Bedford County. The tall pines provide a cool place to enjoy a basket lunch. The picnic area adjoins the 1,400 acre Sweet Root Natural Area. A walk through the Sweet Root Gap to see the virgin hemlocks and enjoy the ferns along the gushing mountain brook will make you want to return to this fascinating area.

Blankley Picnic Area takes us back to the mountains of southern Bedford County. High in the bend of Friends Cove, it can be reached by turning on to Blankley Road from PA 326 south of Rainsburg at the summit of Rainburg Mountain. Many good overlooks into Friends Cove, Rainsburg Gap, and Sweet Root Gap on the drive in will help to provide for a quiet, peaceful place to spend a day.

Cowans Gap State Park is located off Route 75 north of Fort Loudon. Swimming, boating and fishing are offered on 42-acre Cowans Gap Lake.

Redbud Valley: Birdwatchers and wildflower lovers should enjoy visiting Redbud Valley, a 514 acre tract of the Buchanan State Forest, situated along Pa. Route 928, just south of the Big Cove Tannery in Fulton County.

Redbud Valley, otherwise known as the Kerper Tract, was originally the property of Ohio-born layer and amateur naturalist Edmund Kerper who purchased the property in 1934 and built a frame house with native materials.

Most of the bottom land was under cultivation when Kerper moved there but one of his goals was to create a sanctuary for song birds, and each spring he hired temporary workers to plant trees, flowers, and flowering shrubs, thus creating a kind of botanical garden and arboretum. Kerper's dream was to come true in that the area today probably boasts more species of song birds than any other spot in Fulton County. The once beautiful, well-manicured gardens, however, have become wild jungle-like havens for many species of wildlife.

During the 1970's youth groups, including the Youth Conservation Corps (YCC), Neighborhood Youth Corps and others, constructed foot trails, stream crossings, stream improvement devices, parking areas, and outdoor learning stations. The improvements, covering approximately 40 acres of the tract, have helped to make the area more accessible and attractive to the public.
---
---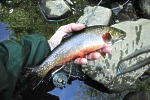 Cottages and Cabins
For those who like to fish for wild trout...this is the place to be Savage River Outfitters is a full line Orvis Dealer and Fly Shop with vacation rentals located on the Savage River in Western Maryland. Call ahead to book a half or full day wade trip or fly fishing instructions.
36.4 miles from park*