ARCHBALD POTHOLE STATE PARK
ARCHBALD POTHOLE STATE PARK
960 Scranton Carbondale Hwy
Archbald, Pennsylvania   18403-1019
(lat:41.513 lon:-75.5757)

Phone:
(570) 945-3239
Toll Free:
888-727-2757
Reservations:
888-727-2757
Archbald Pothole State Park is a 150-acre park in northeastern Pennsylvania. The park is named for Archbald Pothole, a geologic feature that formed during the Wisconsin Glacial Period, around 15,000 years ago. The pothole is 38 feet deep and has an elliptical shape. The diameter of the pothole decreases downward. The largest diameter is 42 feet by 24 feet. At the bottom it is 17 feet by 14 feet. The pothole has a volume of about 18,600 cubic feet, so could hold about 140,000 gallons. It would take 35 fire truck tankers to fill the pothole.
Archbald Pothole was discovered in 1884 by coal miner Patrick Mahon while extending a mine shaft. Mr. Mahon fired a blast of explosives and water and stones came rushing out. The miners fled fearing that the mountain was falling on them. Edward Jones, the manager of the mining company, investigated and ordered the area cleared of debris. About 800 to 1,000 tons of small rounded stones were removed and Mr. Jones realized that the vertical tunnel was a large pothole.

About 1,000 feet north of Archbald Pothole, another pothole was found, but it was thought to be larger than the first pothole and was not excavated because of the excessive cost.

Archbald Pothole was briefly used as a ventilation shaft for the mine. A large fire kept burning in the bottom made the pothole function like a chimney, drawing air out of the mine. In 1887, Colonel Hackley, the landowner, built a fence and retaining wall around the hole. Edward Jones gave many tours of the pothole to local citizens and to noted geologists. The pothole became a popular tourist attraction. In 1914, the widow of Colonel Hackley donated a one-acre deed, which included the pothole, to the reformed Lackawanna Historical Society.

With the addition of 150 acres, Archbald Pothole became a Lackawanna County park in 1940. The county deeded the property to the Commonwealth of Pennsylvania 1961, andafter improvements, Archbald Pothole State Park was dedicated in 1964.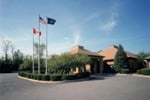 Hotels/Motels
Located near popular recreational attractions, including the Claws 'N' Paws Wild Animal Park, Steamtown National Historic Site and Promised Land State Park. NASCAR fans will enjoy a day at the races at nearby Pocono Raceway.
12.2 miles from park*