FRANCES SLOCUM STATE PARK
FRANCES SLOCUM STATE PARK
Wyoming, Pennsylvania   18644
(lat:41.3388 lon:-75.8906)

Phone:
(570) 696-3525
Toll Free:
888-727-2757
Reservations:
888-727-2757
Email:

Frances Slocum State Park consists of 1,035 acres in northeastern Pennsylvania?s Luzerne County. Frances Slocum Lake is the focal point of the park and forms a horseshoe covering 165 acres.
On November 2, 1778, a small group of Delaware Indians entered the Slocum home and carried away Frances who was then just five years old. The first night after her abduction was spent in a crude shelter under a rock ledge along Abraham Creek, believed to be within the state park boundary. Frances tried to escape during the first night but was soon recaptured. Frances was taken along as the American Indians moved westward and spent the rest of her life with them.

Her brothers never gave up the search. Fifty-nine years after her abduction they found her living on a reservation near Peru, Indiana. She had been married twice and had borne four children. Frances refused the pleas of her brothers to return to Pennsylvania. The brothers wrote to her and learned many of the details of her abduction and life with American Indians.

Frances Slocum died in Indiana in 1847, at the age of 74. The Mississinewa Reservoir and State Forest in Indiana contains the Frances Slocum State Recreational Area and Lost Sister Trail. Along the Mississinewa River in Indiana, there is a monument that marks the final resting-place of Frances Slocum, also called Mocanaquah, the ?Young Bear.?
Camping: modern sites, some with elec.

A 100-site campground, with 15 walk-in tent sites, and 85 tent or trailer sites (some accessible and some with electric hookups), is available from the second Friday in April through the third Sunday in October. Each site contains a picnic table and fire ring. Flush toilets, showers, drinking water, and a sanitary dump station are available.

Organized Group Tenting:

Organized groups can rent this modern area, which can accommodate up to 40 people, and has drinking water, fire rings, picnic tables, flush toilets and shower facilities.
The swimming pool is open daily from 11 a.m. to 7 p.m. from Memorial Day weekend to Labor Day, unless posted otherwise. A seasonal snack bar has fast food and beverages. Fee charged for pool use.
Boating: electric motors only

The 165-acre Frances Slocum Lake has two boat launches, two mooring areas and courtesy docks. A boat concession rents rowboats, paddleboats and canoes.

Motorboats must display a boat registration from any state. Non-powered boats must display one of the following: boat registration from any state; launching permit or mooring permit from Pennsylvania State Parks that are available at most state park offices; launch use permit from the Pennsylvania Fish and Boat Commission.
---
Frances Slocum State Park is located near Clarks Summit, Dallas and Kingston
---
You may picnic year-round in the picnic areas. Drinking water, restrooms, garbage and recycling receptacles, charcoal grills and charcoal disposal pits are available. All areas are available on a first-come, first-served basis. Three accessible picnic pavilions may be reserved up to 11 months in advance for a fee. Unreserved picnic pavilions are free on a first-come, first-served basis.
Frances Slocum Trail: blue blazes, 0.7-mile: This loop trail begins and ends at the boat rental parking lot. On this trail you will see beautiful forests and the rock shelter where American Indians temporarily held their small captive (Frances Slocum).

Campground Trail: white blazes, 1 mile: Campers can access this trail from the Stony Point parking lot or from behind the Organized Group Tenting Area. A short stretch of Campground Trail follows Larch Tree Trail.

Deer Trail: yellow blazes, 1.3-mile, 2.5 miles, 3.8 miles: This interpretive trail has three loops of varying lengths which allow you take a short walk or an adventure of almost four miles. This trail starts at the environmental interpretive center and passes through a diversity of habitats including lakeshore, thicket, hemlock stand, mixed forest, marsh and hardwood forest. A portion of this trail passes through hunting lands. Use caution when hiking in hunting seasons.

Lakeshore Trail: red blazes, 1.4-mile: This trail begins at the Campground Road bridge or the Big Pines Picnic Area and follows the lake shore. It is popular with shore anglers.

Larch Tree Trail: orange blazes, 2 miles: This hilly trail loops around the northeast corner of the park and through a large stand of larch trees.
Natural and cultural history programs are conducted by a park environmental educator from March through November. The park provides environmental education and interpretive programs that usually begin at the campground amphitheater from Memorial Day weekend through Labor Day.

Curriculum-based environmental education programs and teacher workshops are available to area schools.

An environmental interpretive center in the day use area features exhibits on American Indians and ecological topics. A self-guiding nature trail starts nearby and interprets the park?s natural resources.
---
---
Stapleton Pharmacy-Sporting Goods
299 Wyoming Ave
Wyoming, PA
(570) 693-1374
West Side Bait & Tackle Goods
453 W 8th St # B
Wyoming, PA
(570) 693-0248
Ray's Bait & Tackle
220 Main St
Avoca, PA
(570) 654-9555
Salmon Steelhead Trout Sports Shop
177 Hemlock St
Kingston, PA
(570) 287-4143
Nimrod Haven Gun Shop
435 Main Rd
Hanover Twp, PA
(570) 824-3050
Danoff's Sporting Goods
22 Garman St
Hanover Twp, PA
(570) 825-6833
Ray's Bait & Tackle
220 Main St
Pittston, PA
(570) 654-9555
Z's Bait & Tackle
Route 92
Falls, PA
(570) 388-6801
Jack's Bait Shop
Laurel Run Rd
Laurel Run, PA
(570) 822-2843
Woodlands Inn & Resort
1073 Highway 315
Wilkes Barre, PA
(800) 762-2222
Plymouth Lodge 332 F & AM
45 Center Ave
Plymouth, PA
(570) 719-1375
Bear Lake Lodge
Ber LK
Wilkes Barre, PA
(570) 472-3811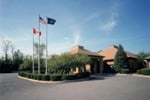 Hotels/Motels
Located near popular recreational attractions, including the Claws 'N' Paws Wild Animal Park, Steamtown National Historic Site and Promised Land State Park. NASCAR fans will enjoy a day at the races at nearby Pocono Raceway.
28.1 miles from park*
The park is five miles from Dallas and ten miles from Wilkes-Barre. From exit 170B of I-81, take PA 309 north about seven miles (7.2). Turn right (east) on Carverton Road and go about four miles (4.2). Turn left (north) on 8th Street Road and go about one mile (1.3). Turn left (west) onto Mt. Olivet Road and go one mile. The park entrance is on the left.