ANNADEL STATE PARK
The park, 60 miles north of San Francisco on the eastern edge of Santa Rosa offers miles of trails for hiking, mountain biking, and trail riding.

For wildflower lovers, Annadel Park offers a great variety of flowers from early Spring until early Summer, especially on a hike around Lake Ilsanjo. The best months to see the park's wildflowers are April and May, but there are some plants in bloom as early as January and as late as September.

Fishing Lake Ilsanjo offers excellent fishing for black bass and bluegill. Black bass weighing nine pounds and more have been caught here. A purple plastic worm is a favored bait for the bass, while the bluegill favor garden worms, small crayfish, and grubs. If you are 16 years of age or older, you must have a California fishing license. Ledson Marsh dries up by late August or early September and so no fish are found there.

There is no camping in the park. Fires, campstoves, and barbecues are not allowed.

Campsites are available at the county campground at Spring Lake and at Sugarloaf Ridge State Park, about ten miles east of Annadel via Highway 12 and Adobe Canyon Road.

Horses and bicycles are allowed only on designated trails. Off-trail riding is not permitted.

Drinking water should be carried on the trails. The water in Hunter Springs is suitable for horses only.

Motor vehicles are allowed only on the entrance road and in the parking lot within the park.

Dogs are allowed only on Channel Drive and in the parking lot. They must be kept on leash at all times and are not allowed on the trails.

Lock your car and take your valuables with you. Don't Litter! If you bring it in, take it back out.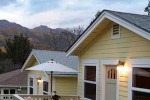 BBs / Inns
More than a BB - Aurora Park Cottages is your private vacation retreat at the top of Napa Valley. Located in a country setting in beautiful Calistoga - the spa capital of California. FREE CHAMPAGNE AND CHOCOLATES Please tell us you found us on www.stateparks.com and we'll have some chilled champagne and chocolates awaiting your arrival at Aurora Park Cottages.
9 miles from park*