SOUTH BEACH STATE PARK
South Beach State Park and the surrounding areas offer a variety of recreational opportunities.

One of the most exciting additions to the program at South Beach: kayak tours. Folks who register for the activity will launch from nearby Ona Beach (5 miles south) and spend two hours exploring the fascinating Beaver Creek area with a guide.

Other activities around the park include fishing, crabbing, boating, windsurfing and beachcombing. Attractions nearby include the Yaquina Bay Lighthouse, marine life exhibits at the Hatfield Marine Science Center and the Oregon Coast Aquarium.

These are just a few of the opportunities you will encounter when you visit and explore the central Oregon coast.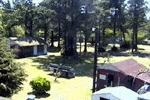 Hotels/Motels
In the heart of Long Beach Peninsula lies the Ocean Park Resort. Ocean Park Resort offers many amenities for this beautiful resort some including a Playground, Pool, Spa, Coin Laundry, Recreation Hall. When you stay at Ocean Park you will have many options on how you want to stay these include RV Sites, Guest Houses, Tent Sites, along with the very nice Motel.
19.6 miles from park*