LEADBETTER POINT STATE PARK
Leadbetter Point State Park is a natural area open for day use. The park features beach frontage on the Pacific Ocean and Willapa Bay. It borders the Willapa National Wildlife Refuge which has about five miles of ocean beach and several miles of bay beach. There are views of the Pacific Ocean to the west and Willapa Bay and hills to the east. The park is part of the Willapa Bay Water Trail. Visitors can enjoy hiking, fishing and clamming at the park. The park is part of the Willapa Bay Water Trail. A variety of migratory birds can be seen from fall through spring, including shovelers, brants, pintails, buffleheads and sooty shearwaters.

Park hours/updates:

The park is open for day use from 6:30 a.m. to dusk year round.
Wildlife Mammals Birds? Raccoons? Geese
Services/Supplies Available in the area? Camping? Diesel? Gasoline? Gifts? Golf? Groceries? Hardware? Overnight Accommodations? Postal service? Wood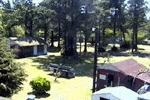 Hotels/Motels
In the heart of Long Beach Peninsula lies the Ocean Park Resort. Ocean Park Resort offers many amenities for this beautiful resort some including a Playground, Pool, Spa, Coin Laundry, Recreation Hall. When you stay at Ocean Park you will have many options on how you want to stay these include RV Sites, Guest Houses, Tent Sites, along with the very nice Motel.
7.4 miles from park*