PIGEON RIVER STATE FISH AND WILDLIFE AREA
PIGEON RIVER STATE FISH AND WILDLIFE AREA
Pigeon River Fish and Wildlife Area was established in 1956 when three impoundments in the Pigeon River Valley were given to the state. These included Mongo, Nasby and Ontario reservoirs. Since then the state has acquired additional land along the river valley.

Most revenues used in land acquisition, development, operation and maintenance of Pigeon River Fish and Wildlife Area are derived from the sale of hunting, fishing and trapping licenses. Funds are also received from the federal Pittman-Robertson and Dingell-Johnson programs to aid fish and wildlife restoration. These funds are derived from taxes levied on sport hunting and fishing equipment. Indiana hunters and fishermen are proud to provide this property for the enjoyment of all people.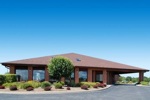 Hotels/Motels
We provide easy access to area attractions and businesses. Only minutes from the Fort Wayne International Airport, Chain O' Lakes State Park and the Wagon Wheel Theatre. Children of all ages will enjoy having fun at nearby Paige's Crossing family entertainment park. Free wireless high-speed Internet.
14.3 miles from park*