CUMBERLAND MOUNTAIN STATE PARK
CUMBERLAND MOUNTAIN STATE PARK
24 Office Dr.
Crossville, Tennessee   38555
Phone: 931-484-6138
Reservations: 800-250-8618
Cumberland Mountain State Park is situated on the Cumberland Plateau, a segment of the great upland, which extends from western New York to central Alabama. It is said to be the largest timbered plateau in America. This 1,720-acre park was acquired in 1938 as a project of the Farm Security Administration to provide a recreational area for some 250 families selected to homestead on the Cumberland Plateau.

The Homestead Museum, located one mile from the park, depicts the Cumberland Homestead Community of the 1930's. This community built the park along with help from the CCC and WPA.
Cumberland Mountain park has a combined total of 147 tent and RV campsites with hookups provided. Picnic tables, grills and a bathhouse facility are also provided. There is a $2 shower fee for non-campers. Seven adults are allowed to camp at each site. Reservations are not taken for campsites.
Rustic cabins are nestled in the woods at Cumberland Mountain State Park and have fully equipped kitchens, cable TV, fireplaces (except single cabins), linens, picnic tables and grills. Wood is provided for those cabins with fireplaces. Parking is provided in the front of each cabin.

Class A cabins can accommodate four people.

Class AA can accommodate six people.

Class AAA can accommodate ten people.

The Mill House cabin can accommodate up to 16 people.

Cabins may be reserved up to one year in advance.
The parks' olympic size pool is open from Memorial Day through Labor Day. The pool has a diving well with 1-3 meter board and 1-1 meter board. Chairs, tables with umbrellas and a bathhouse are provided. There are picnic tables outside the pool area and a snack bar.

There is a lifeguard on duty.
---
Get directions
to this park: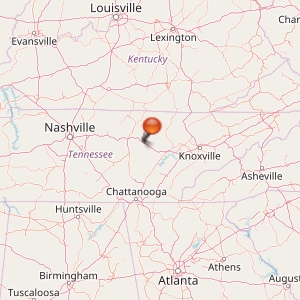 ---
Picnic tables equipped with grills can be found throughout the park at the Recreation Lodge parking lot area, playground area, tennis court area and the boat dock area.

The park has four picnic pavilions that can be reserved for larger groups. Pavilions can be reserved up to one year in advance.
The park offers several miles of moderate trails around the lake, creek and in the woods. Overnight camping is allowed on one of the trails. Trails are open year-round.
Cumberland Mountain State Park provides interpretive programs June-August provided by the seasonal naturalist and seasonal recreation directors. The programs cover a broad spectrum of interests. Groups with specific interests can call the park to arrange special programs. Park rangers are available for programs on a year round basis.
---
Area Campgrounds
Area Fishing Related Businesses
Jim & Jr's Bait & Tackle
5335 Peavine Rd
Crossville, TN
(931) 484-3433


Area Cabins and Lodges
Lake Tansi Health & Racquet Center
8007 Cherokee Trl
Crossville, TN
(931) 788-6724


Timberline Lodge
Highway 70 N
Pleasant Hill, TN
(931) 277-3522


Lake Tansi Village
Dunbar Rd
Crossville, TN
(931) 788-3301


Take Interstate 40-East from Nashville, West from Knoxville-Exit on #317. Travel south on US Hwy 127 for 9 miles, park entrance is on the right.