WYOMING STATE FOREST
World's End State Park was developed in 1936 by the Department of Forest and Waters and the Civilian Conservation Corps. The park, 780 acres nested in the Wyoming State Forest, was operated for many years by the forest district. It was first know as "Whil's Glen" due to its location at a narrow S-shaped gorge in the Loyalsock Creek, where the stream throws itself against a sheer rock wall and then continues its journey at a right angle to its original course. Today, the park is managed by the Pennsylvania Bureau of State Parks. It offers rental cabins and facilities for camping, swimming, fishing, picnicking and nature study.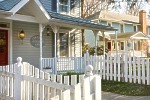 BBs / Inns
This romantic country inn sits atop the area's highest point, a 2,200-foot peak, just outside the unique Victorian village of Eagles Mere - sometimes called the town that time forgot.
9.9 miles from park*
---
Wyoming State Forest is located near Montoursville, Williamsport

Worlds End State Park
---
The Dry Run Picnic Area is located along Dry Run Road about one mile east of Pennsylvania Route 87. This area, developed during the days of the Civilian Conservation Corps, is maintained for day use only. It is situated in a narrow mountain valley adjacent to a native trout stream and offers all the facilities for enjoyable picnicking.
---
---