WILDCAT DEN STATE PARK
WILDCAT DEN STATE PARK
1884 Wildcat Den Road
Muscatine, Iowa   52761
Phone:
563-263-4337
Reservations:
877-427-2757
Email:

Wildcat Den State Park is a great place for a family to "get away from it all" for a weekend or a family vacation. The campground has 28 campsites and non-modern rest room facilities. Starting February 13, 2006 advance campsite reservations can be booked through the park reservation system. Half of the campsites are still available for self-registration on a first-come, first-serve basis. Camping is also available at Fairport Recreation Area.
---
Wildcat Den State Park is located near Davenport, Milan and Muscatine

Mark Twain National Wildlife Refuge
---
Wildcat Den State Park offers a variety of picnic settings ideal for a pleasant outdoor cookout. There are two open shelters available and may be reserved for a fee through the park manager.
One of the major features of Wildcat Den State Park is its trail system. Trails wind through a variety of terrain and lead to such fascinating sites as "Steamboat Rock," "Devil's Punch Bowl," and " Fat Man's Squeeze." The beautiful bluffs and rock outcroppings provide spectacular views to hikers.
For a different type of camping experience, why not try the Fairport Recreation Area Campground located 6 miles away from Wildcat Den State Park on Highway 22. Fairport is located right on the Mississippi River and offers 42 campsites, all of which have electrical hook-ups. Modern shower and rest room facilities and a trailer dump station are available at the Fairport Campground. The same opportunities for reserving campsites that occur at Wildcat Den apply here.

There are 3 boat ramps available at the Fairport area and provide plenty of boating access to the "Father of Waters." A fish cleaning station is provided as well as docks for loading and unloading boats.

The Fairport Recreation Area provides excellent access and viewing of the Mississippi River. The large towboats, recreational boaters, river wildlife (especially birds) and the majesty of the river all parade in front of the campground.

Pine Creek Grist Mill at Wildcat Den State Park.

Wildcat Den State Park is one of the most unique in Iowa, combining natural beauty and solitude, preservation of historical structures, trails, camping and picnic areas for recreational use.

One of the focal points of the park is the Pine Creek Grist Mill located in the eastern part of the park on Pine Creek. The mill was built in 1848 by Benjamin Nye, one of Muscatine County's first settlers who also built the county's first store and post office in 1838. The Pine Creek Grist Mill is one of the finest examples of mid nineteenth century mills left in the country and is on the National Register of Historic Places. The Friends of Pine Creek Grist Mill and the Iowa Department of Natural Resources is working to restore the mill to its original condition. The "turn of the century" Melpine Schoolhouse is located near the mill and offers park visitors another glimpse of Iowa's past.

A portion of the park was donated to the state by the Brandt sisters who actually lived there at one time. A bronze tablet dedicated to their memory has been placed in sandstone in a lovely setting where centuries-old pine trees line 75-foot cliffs.
---
---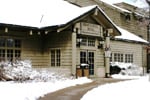 Hotels/Motels
Relax in the rustic beauty and comfort of Starved Rock Lodge, Cabins and Starved Rock Inn. The historic Lodge has 69 guest rooms, which include three bay-window rooms, plus cabins nestled in the woods. Fireplaces can be found in four of the eight sunset cabins near the pool area...
98.4 miles from park*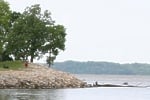 Hotels/Motels
You will feel right at home when you reach Carroll County, our corner of beautiful Northwest Illinois. The magnificent Mississippi River and outdoor spaces will refresh your spirit and touch our soul.
59.5 miles from park*

Mark Twain National Wildlife Refuge