WASHINGTON ROCK STATE PARK
One of the oldest state parks in New Jersey, Washington Rock was originally purchased in 1913 to commemorate the historical events of 1777. Situated on top of Watchung Mountain in Green Brook Township, the park is best known for its scenic vista and historical significance. The park is a popular site for picnicking and relaxing.
The strategic location of Washington Rock made it a valuable lookout point during the American Revolution for General George Washington in June of 1777 when the British army under General William Howe was moving toward Westfield. From the vantage point of this natural rock outcropping, General Washington had a thirty-mile panoramic view of the valley and was able to instruct his troops to circle behind Howe?s troops and cut off their retreat.
---
Washington Rock State Park is located near Avenel, Basking Ridge and Belle Mead
---
---
---
Clarion Inn
11 Cedar Grove Lane
Somerset, NJ
(732) 563-1000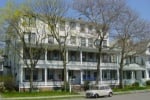 BBs / Inns
The Manchester Inn, The Ocean Grove New Jersey Bed Breakfast and The Secret Garden Restaurant are steps from the white sandy beach and the gentle surf of the Atlantic Ocean. Enjoy the cooling ocean breezes from our rocking chair porch while overlooking Ocean Pathway, Ocean Groves finest avenue
36.9 miles from park*
Take Route 22 to Greenbrook Township to Washington Rock Road. The park is located on Washington Rock Road.